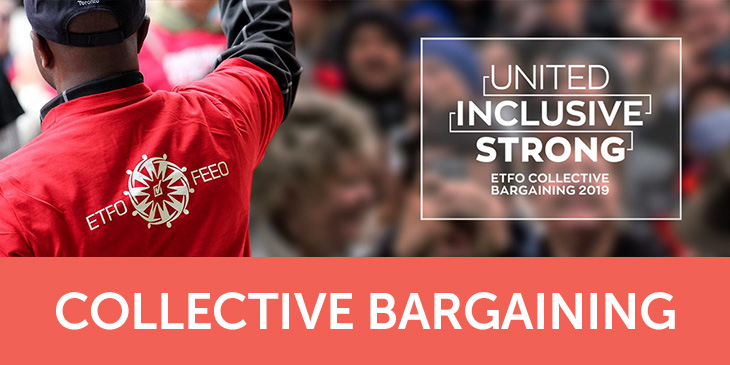 Collective Bargaining
Collective Bargaining is what establishes your Collective Agreement, the document that outlines a teacher's salary, benefits, working conditions, sick leave, vacation, protection from arbitrary discipline, and much more.
All members are urged to engage and get involved in the bargaining process.
Visit the ETFO Collective Bargaining website.
What is Central Bargaining?
With the passage of Bill 122, the School Boards' Collective Bargaining Act, 2014, all items with a monetary element are now negotiated at the provincial level between ETFO, the Ministry, and OPSBA (Ontario Public School Boards' Association).
Items discussed at Central Bargaining include, but are not limited to:
Salary
Grids
Class sizes
Staffing levels
Benefits
Sick Days
Resources/Supports for Students with Special Needs
Full-Day Kindergarten
Addressing Violent Incidents
IEP processes
Visit the ETFO Collective Bargaining website for more information about the School Boards' Collective Bargaining Act, 2014.
What is Local Bargaining?
Any item not considered a "central item" can be negotiated at the local level between ETT and the Toronto District School Board (TDSB).
Items discussed in Local Bargaining include, but are not limited to:
Teacher Performance Appraisal (TPA)
Transfer Procedures
School Staffing Committee
Preparation Time
Supervision Time
Staff Meetings
Report Cards
Extracurricular Activity
Bargaining Map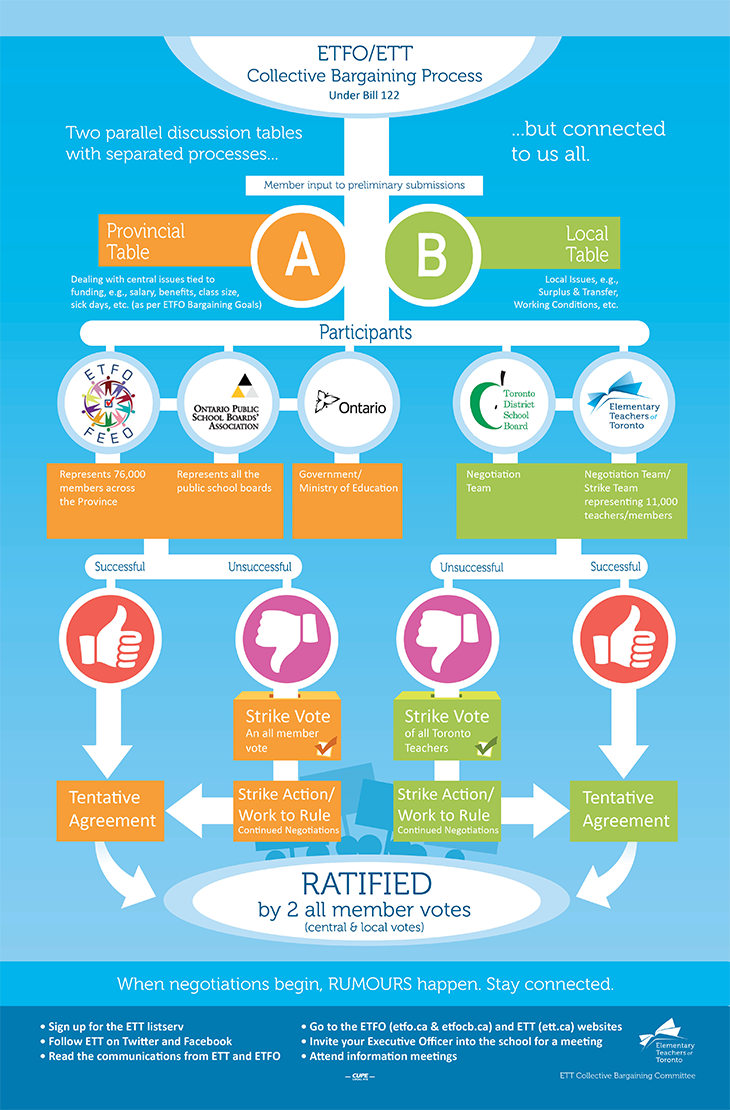 Provincial Bargaining Goals
ETFO's 2019 bargaining goals for Teachers and Occasional Teachers are as follows:
Class composition provisions and class size caps in all grades;
Additional special education supports;
Real salary increases and increases to all forms of compensation, including benefits funding;
Improvements to Occasional Teacher hiring practices;
Improvements to workload and working conditions; and
Improvements to health and safety protection.
How Provincial Bargaining Goals Are Set
Step 1: Member Surveys
Member input is a critical piece of ETFO's 2019 central (i.e., provincial) goal setting process. In November 2018, ETFO obtained member input about 2019 central bargaining issues in a variety of ways, including:
an online all-member survey;
a random sample telephone survey of members; and
face-to-face focus groups.
Step 2: Collective Bargaining Committee Developed Goals
ETFO's Collective Bargaining (CB) Standing Committee is comprised of ETFO members from across the province who are appointed to carry out assigned tasks, or "Terms of Reference", related to collective bargaining. The CB Committee is structured so that there is a member from each ETFO bargaining unit type (i.e., Teacher, Occasional Teacher, Designated Early Childhood Educator and Education Support Personnel/Professional Support Personnel) on the Committee.
The CB Committee's Terms of Reference includes creating ETFO's bargaining goals for each round of negotiations.
Member input about ETFO's 2019 central bargaining goals was reviewed by the CB Standing Committee in November/December 2018. Based on that review, the CB Standing Committee developed draft central bargaining goals.
The draft central bargaining goals were then reviewed by ETFO's Collective Bargaining Services staff.
After having reviewed the input of ETFO's Collective Bargaining Services staff, the CB Standing Committee created ETFO's 2019 central bargaining goals. The goals were then forwarded to ETFO's Provincial Executive.
Step 3: Provincial Executive Recommends Goals
ETFO's 2017-2019 Provincial Executive consists of fourteen members who are elected by delegates to the ETFO Annual Meeting.  The 2017-2019 Provincial Executive is comprised of:
the president;
the first vice-president;
two vice-presidents;
the ETFO representative to the Ontario Teachers' Federation; and
additional executive members as necessary to complete an executive of fourteen.
At a meeting in January 2019, the Executive received the 2019 central bargaining goals from the CB Standing Committee.  The Executive then submitted those goals to ETFO's Representative Council for approval.
Step 4: Representative Council Approves Goals
ETFO's Representative Council (sometimes referred to as "Rep Council") is composed of the president of each ETFO local, plus additional representatives based on the size of the local.  Under ETFO's Constitution and Bylaws, Representative Council approves ETFO's collective bargaining goals.
At its meeting in February 2019, members of Representative Council reviewed and approved ETFO's 2019 central bargaining goals.
Flyer Downloads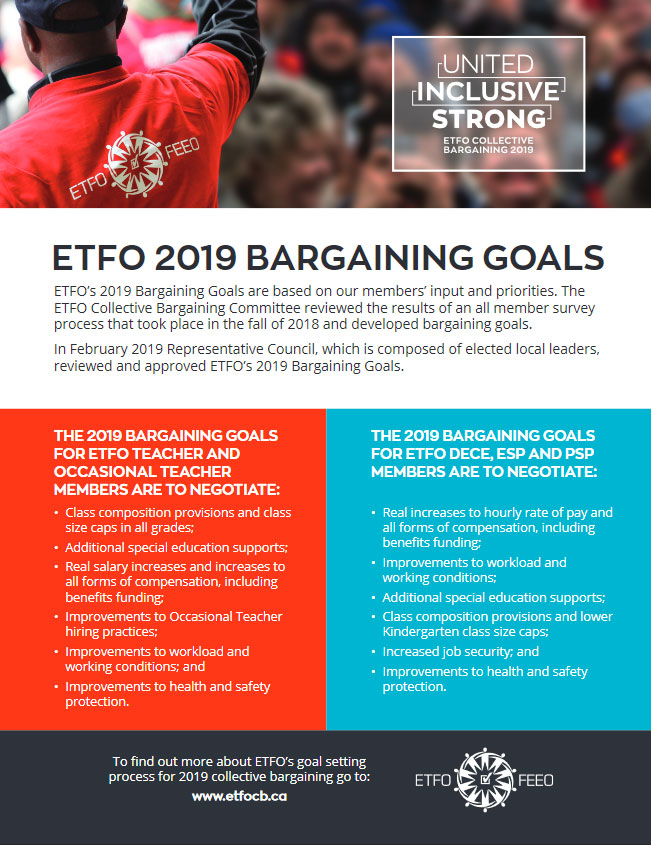 ETFO Bargaining Goals Flyer 1 [PDF]
ETFO Bargaining Goals Flyer 2 [PDF]
ETFO Bargaining Goals Flyer 3 [PDF]
ETFO Bargaining Goals Flyer 4 [PDF]
Central Strike Vote Details
ETFO, in concert with ETT, will hold a member information meeting where a central strike vote will take place.
The vote will be conducted in-person at the end of September or in October. Details about the location, date, and time of the vote will be made available to ETT members as soon as possible.
At the meeting, ETT members will be provided with a bargaining update and the reasons that ETFO is taking central strike votes.
ETFO will release the results of the strike vote to members after all participating ETFO members have voted and the results have been compiled. The results will be released in early November.
Members will receive the results first before any information is provided publicly.
A Strong Central Strike Vote
In order to authorize strike action, more than 50 per cent of those who cast ballots must vote in favour across the province.
A strong vote is a way for ETFO to signal to the school board representatives and the government that the union has the support of the membership to negotiate its priority issues and defend quality learning and working conditions.
ETFO negotiates for agreements, not strikes. No union wants to take job action, but a strike (or lock-out) can occur when both sides are unable to reach an agreement. Even so, a strike is always seen as a last resort and is only used when bargaining reaches a stalemate (also called an "impasse").
Holding a strike vote is not an automatic trigger for job action. There are several other steps that must occur (e.g., impasse, conciliation, "no board" report, etc.) before legal job action can even take place.
A strong strike vote does not necessarily mean ETFO members will be commencing strike action. Strike votes simply convey to all the parties involved in bargaining the degree to which ETFO members want to see a fair deal being reached. A decision to commence strike action is a strategic decision that is made at a time when the union feels it must escalate in order to make progress at the bargaining table.
Get Collective Bargaining Updates
Members, to ensure that you receive Collective Bargaining information in a timely manner please subscribe to receive ETT Electronic Communications.
ETFO also sends out a members-only Collective Bargaining eNewsletter. Please make sure your contact information is up-to-date with ETFO. You can update your contact information either online or by calling ETFO at 416-962-3836 and asking for Member Records (available 8:00 a.m. – 5:00 p.m.).
Contact Us
If you have any questions about the bargaining process, please contact your Executive Officer.
Sep 11, 2019
ETFO Media Release: ETFO Statement from President Sam Hammond
The following ETFO Media Release was posted on September 11, 2019. ETFO to Hold Mass Meetings...
READ MORE
Show More Posts