For Immediate Release – November 26, 2020
Toronto, ON – Teachers are giving Premier Doug Ford and Education Minister Stephen Lecce a failing grade for their underfunded and inadequate response to COVID-19 in our schools, as presented in a progress report card compiled by the Elementary Teachers of Toronto (ETT).
"The Ontario Government's inadequate funding risks the health and wellbeing of our students and educators," says ETT President Jennifer Brown. "Doug Ford must provide our schools with the resources to keep our classrooms safe and ensure quality public education."
In its survey of 1,054 elementary teachers in bricks-and-mortar TDSB schools, ETT reports that:
10% of teachers say that their classroom is always safe.
62% of teachers never or rarely have adequate space for physical distancing in their classrooms.
77% of teachers never or rarely have additional caretaking staff at their school.
27% of teachers say their classroom is always regularly cleaned.
96% of teachers never or rarely have a public health nurse at their school.
It its survey of 377 elementary teachers in virtual TDSB schools, ETT reports that:
The average virtual school class size is 37 students.
77% of teachers never or rarely have adequate resources.
80% of teachers never or rarely have support staff available.
97% of teachers never or rarely have access to the necessary budget to support their class.
97% of online kindergarten teachers with more than 15 students do not have a Designated Early Childhood Educator (DECE) assigned to their class.
Hire More Teachers For Smaller Class Sizes
"Teachers do not feel safe in their classrooms," says Brown. "They're worried and stressed about their safety and that of the students in their care."
"Our schools need provincial funding for more teachers to realize smaller class sizes, so students and educators can adhere to the 2 metres of physical distancing mandated everywhere else in Ontario to prevent COVID-19 transmission."
More PPE, Cleaning Staff, and Nurses; Improved Ventilation
Schools must be given the necessary Personal Protective Equipment (PPE).
"Teachers in high risk environments report that adequate PPE supplies, such as smocks and gloves, have not been provided and that the lack of PPE across the Board has led to rationing," says Brown. "This concern is even more immediate as we move into winter and school ventilation systems remain inadequate and in disrepair."
The Ford government must also hire more cleaning staff to ensure the regular deep cleaning of classrooms and more nurses to assist in maintaining health protocols, such as screenings, and managing potential outbreaks.
Virtual Schools Cannot be Forgotten
"The situation in virtual schools is deteriorating," says Brown. "Classes continue to balloon in size and teachers report that they do not have the essential supports or budgets to realize student success."
The poor rollout of virtual schools must be corrected. The province must provide funding so that teachers have the tools, training, and resources they need to do their job as professionals.
The Ford Government Must Take Action
"This progress report card is a desperate call for help from our teachers," says Brown. "The Ford government's austerity agenda has failed to keep our schools safe. Doug Ford and Stephen Lecce need to live up to their commitment and spare no expense when it comes to providing a safe and supportive learning and working environment in our bricks-and-mortar and virtual schools. Our students and educators deserve no less."
Progress Report Card
Download the Progress Report Card [PDF]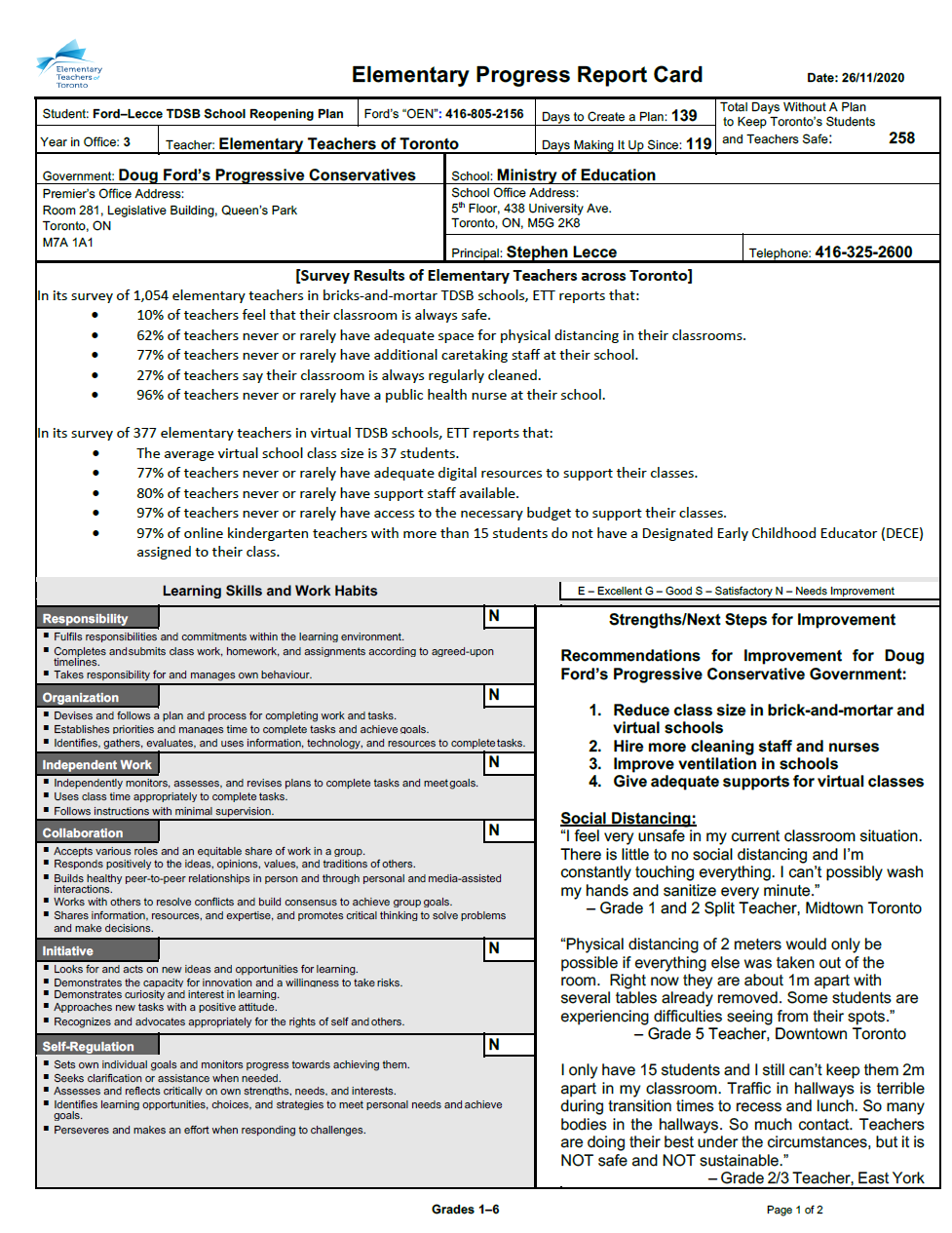 About the Elementary Teachers of Toronto
ETT is the Toronto local of ETFO. The local—the largest in Canada—acts as the representative body for more than 11,000 elementary teachers (K-8) employed by the TDSB.
For more information, please contact:
Jennifer Brown, President
416-708-8579 | jbrown@ett.on.ca
Stephen Michalowicz, Communications Manager
416-571-1314 | smichalowicz@ett.on.ca