This year, we have seen an increase of hate, transphobia, biphobia, and homophobia against our 2SLGBTQIA+ communities. In March, the York Catholic District School Board was in the news regarding members of their community angry over Safe Space stickers created by OECTA in schools. Last month, the YCDSB voted 6–4 against raising the Pride Flag at its schools. This decision creates unsafe, exclusive spaces that cause harm for our 2SLGBTQIA+ students and staff.
OECTA has been vocal in denouncing this decision by the board. As a sign of solidarity with our OECTA siblings, the 2SLGBTQIA+ Committee passed a motion in May to march with OECTA and ETFO York Region at the York Pride March on June 17, 2023. We will march shoulder to shoulder and denounce the hate we are seeing.
Date: June 17, 2023
Where: Main Street Newmarket—from Ontario St to Water St
Time: Parade begins at 3:00 p.m.
Parade Route 2023
The parade will start at Queen St & Main St and travel south down Main St to Water St.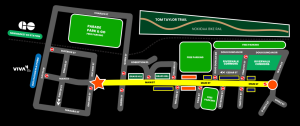 ETT members please register for the York Pride parade at BOTH the links below:
OECTA registration form (They are requesting anyone marching to register so they can identify their ETT siblings. Where it reads last name, please enter your last name with ETT in brackets: i.e., Abbruzzese (ETT member).
ETT 's  registration form if you plan to attend this event. (Registration is now closed.)
[NOTE: Make sure to update your MemberHub member profile with any required accommodations and/or dietary restrictions.]
Registration closes June 16, 2023 at 4:00 p.m.
Message from York Pride:
Our small-town Pride vibe returns to Main Street in celebration of 10 years of the York Pride Parade and 23 years of Pride events in York Region. This dazzling display of 2SLGBTQ+ brilliance showcases the beauty and strength in pride and self-expression, as we continue to show what community truly looks like.
As the biggest event of the York Pride Festival, all eyes will be on our 2,500 marchers as over 50 floats and groups take over Main Street. Expect all your Parade favourites, from the famous rumble of the motor bikes to the quintessential community groups, and the many wonders of our 2SLGBTQ+ communities.
For more information contact Maria Abbruzzese and Rico Rodriguez