The Elementary Teachers' Federation of Ontario in collaboration with Black community organizations and educational stakeholders is hosting Generation Black: You're Next!
Generation Black: You're Next! is a public symposium that will address the urgency for recruiting Black teachers and the necessity for retaining Black educators to improve the representation of Black people in education.
When: Saturday, October 1, 2022
Time: 9:30 a.m.–5:00 p.m.
Where: Hyatt Regency Toronto, 370 King St. West
Download the flyer for speaker(s) and agenda details.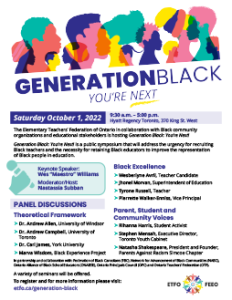 Registration is now closed.