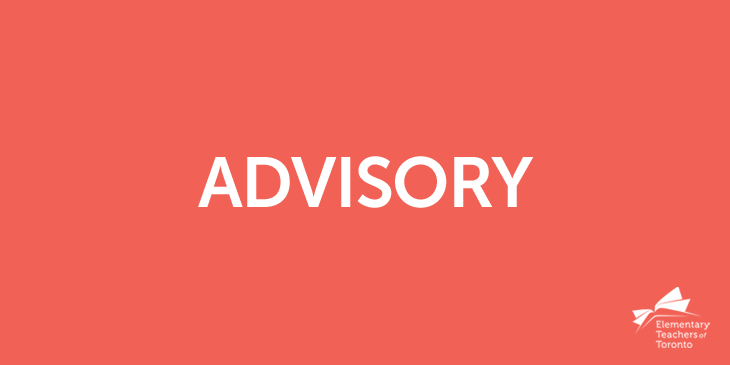 March 18, 2021
Advisory: Prep Payback
In the event that preparation time is cancelled, members are reminded of the Collective Agreement language that requires the Principal to pay back any lost prep time within 15 school days.
Collective Agreement Language
L – D.15.5. Preparation time may be rescheduled in the case of an emergency or when a Teacher is required to fill in for another Teacher whose absence was not foreseen by the principal. In such cases, the Teacher shall be entitled to have such time made up within 15 school days.
Missed preparation time shall only be rescheduled where a Teacher is required by the principal to provide instruction during his or her scheduled preparation time for a Teacher absent from work. Such rescheduling of missed preparation time shall occur as soon as administratively feasible, but no later than 15 days after the loss of the preparation time and in any event within the same school year.
Group Grievance Information
ETT has filed a Group grievance on behalf of members who have not received prep payback within the required 15-day period during the 2020-2021 school. Please note that this grievance is not being filed against, nor is it a condemnation of, a specific principal. It is being filed against the TDSB for failure to uphold a provision of the Collective Agreement. In order to qualify for any award that may result from this this grievance, members must provide detailed evidence in a timely manner of any breach of L – D.15.5.
If you have not received payback of missed preparation time within 15 instructional days, please complete the submission form below as soon as possible and provide all of the required details.
Please contact ETT Vice President and Grievance Coordinator Jamie Thom at jthom@ett.on.ca if you are unsure if your situation is captured by this grievance.
Access the Group Grievance – Prep Payback Submission Form
Please be advised that this grievance only applies to teachers with brick and mortar assignments. Virtual school teachers who have missed prep are covered by the Virtual School Policy Grievance.