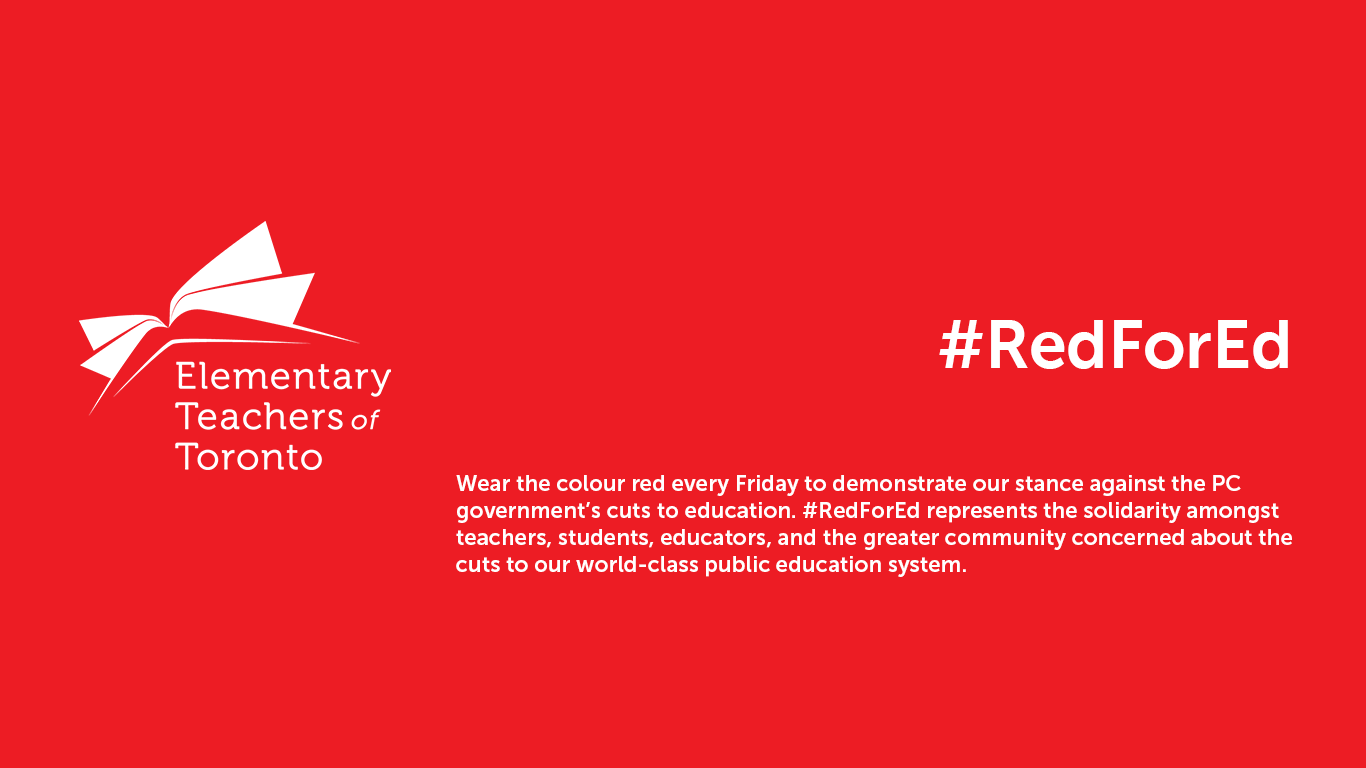 On Fridays We Wear #RedForEd
Wear Red for Ed – Every Friday starting March 22, 2019
Last Friday, ETT members, executives, community, and office staff took part in wearing #RedForEd in protest against the Ford government's sweeping cuts to public and post-secondary education.
The #RedForEd movement started in the United States in 2018, and was strengthen and solidified through the mass demonstration against corruption and cuts to the public education system.
Red for Ed is a grassroots movement led by Arizona Educators United, and is part of a national outcry from teachers and education advocates about low salaries. Protesters in West Virginia, Kentucky and Oklahoma have seen success after similar strikes by educators.  (CN Arizona PBS, 2018)
It is scary to think that the government believes in scaling back education altogether is in any way a good solution– especially on the backs of the weakest and most vulnerable: students with disabilities, from low-income families, or scrapping the potential of quality education from the youngest of them all – kindergarteners. Improving public education for sustenance and quality means mapping it to the skills our society needs but also reaffirming a commitment to the democratic society we live in. This movement is now gaining traction in Ontario in wake of the PCP's cuts to public education.
When over $25 million cuts in education are being made in conjunction with an annual $10 million injection towards the horse race-industry, it becomes evident who exactly Ford is "for": wealthy corporations at the expense of the vulnerable.
It is obvious that the PCP government has little to no regard on the long-term effects on education that these cuts impose; there is concrete research outlining the detriment, which Ford readily and quickly dismissed.
ETT will stand with our education community members in solidarity every Friday by wearing red to stand for public education.
ETFO Action Advisory: ETFO President Sam Hammond
We are asking our members and allies to wear Red for Education every Friday moving forward. Please spread the word to your colleagues. This is an easy way to show your support and solidarity and start a conversation about public education in your school and community.
Tell the government you don't support larger classes:
Having successfully defended class size caps in Kindergarten and grades 1-3 we are asking members and allies to contact the Minister of Education and their local MPP to let the government know that you do not support increases in class size in grades 4-8 and high school. To get started visit: www.BuildingBetterSchools.ca/class
Tell the government you support fair hiring practices:
In response to proposed changes to Regulation 274, we have set up an action on BuildingBetterSchools.ca/fairhiring. Members are invited to send a letter to the Minister of Education and their local MPP. The letter calls on the government to maintain Regulation 274, and insists that it provides a fair, consistent and transparent hiring process for long-term occasional and permanent teaching positions.
We will keep you updated as more actions are planned across the province and we welcome your ideas, energy, and creativity in defending public education.
In solidarity,
Sam Hammond
President
Elementary Teachers' Federation of Ontario