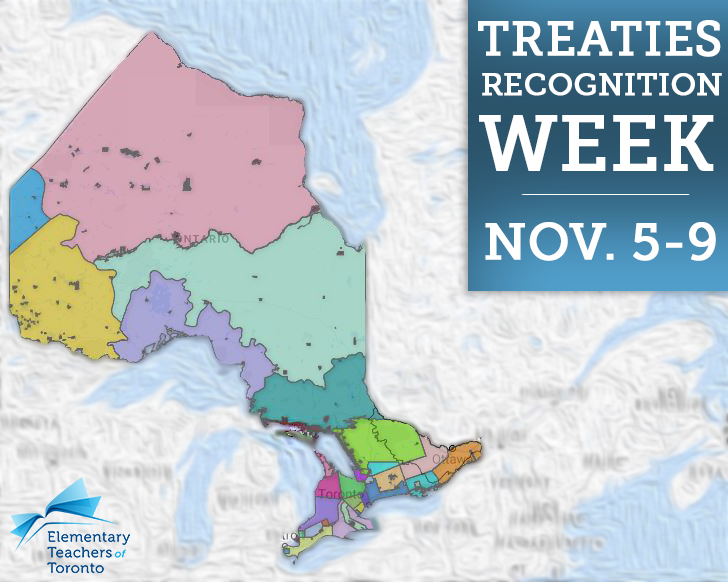 November 5, 2018
Treaties Recognition Week
Reconciling with Indigenous communities means a resolve to teach the truth and advance the gravitas of justice and inclusion.
This week we honour and uphold Treaty Week in our ETFO Locals and here at home as Elementary Teachers of Toronto.
Our ETFO Policy Statement underscores "that social justice and human rights for all First Nations, Métis, and Inuit (FNMI) peoples be achieved" and "that a deeper understanding of First Nations, Métis, & Inuit (FNMI) peoples' past and current issues, challenges, and cultures be promoted."
WHAT IS A TREATY?
Ontario is covered by 46 treaty and other legally binding agreements, such as land purchases by the Crown signed between 1781 and 1930. Treaties were set as a definitive contract of provisions, promises, relationships, and responsibilities between the Indigenous and the Crown, but have carried different meanings for different people over the course of history.
For Indigenous peoples, the binding character of treaties is not just in the legal language of the documents. As a community that heavily refers to tradition and culture, the true force of these treaties are based on what was verbally said in Indigenous languages and ceremonies at the time of the agreement – so when virtually no voice recording devices for proof existed. The treaties are seen as instruments of relationships between autonomous peoples/nations who agree to share lands and resources, maintaining the capacity to self-govern.
For the Crown, the principles for treaty-making with Indigenous peoples were articulated by King George II as legal instruments that surrender Indigenous rights to Canadian land and resources. The constitutional foundations of Canada were built off these agreements, and character of treaties between the Crown and Indigenous peoples were renewed in 1982, recognizing them as the supreme law of Canada.
Today, court rulings continue to shape treaty relations between the federal government and Indigenous people, often ignoring the rich Indigenous culture that birthed it and thus the Indigenous perspective of treaties.
WHY IS THIS IMPORTANT NOW?
Honouring treaties, especially through the lens of Indigenous communities, are a part of 94 Calls to Action the Truth and Reconciliation Commission (TRC) have proposed to fulfill. The challenge is to bridge the gap between these two polarizing perspectives of treaties.
In spite of the constitutional character of treaties, the non-indigenous people who made and implemented them tended to see them as self-serving deals rather than sacred pacts between independent nations.
Today, the federal and provincial governments still act like the negotiators of yesteryear, who believed treaties were inexpensive ways to strip aboriginal titles and ownership privileges from the lands of Canada, so that the resources can then be diverted to settlers. Words like 'ceded', 'yielded' or 'surrendered' are often used as an excuse to denote Indigenous peoples gave up their ancestral rights and titles through agreed treaties. On the flipside, the Indigenous perspectives demand to cement treaties as a confirmation of those very rights and agreements.
Recognition of Indigenous rights and the respect for their sovereignty are essential as pillars for success that ensure we all equitably share the wealth of resources this great land has to offer. These treaties merit continuity rather than the longstanding intransigence of the Canadian government towards the perspectives of those who have been routinely ignored and undermined.
OUR ROLE AND MISSION
In 2015, ETFO endorsed the Truth and Reconciliation Commission's Calls to Action. ETT recognizes and joins ETFO's mission for educators to move forward into reconciliation with the Indigenous peoples of Canada. The recent cancellation of the Truth and Reconciliation writing by Doug Ford's Conservative government calls for a further emphasis on supporting a framework for discourse that dispels myths and misconceptions about complex historical and current relationships with Indigenous communities.
Reconciliation begins with truth. Truth is spread through education – it begins and ends with our willingness to stand for justice and equity.
To learn more about treaties, land, Indigenous relations, ETFO/ETT's mission or the TRC visit:
ETFO Voice article on #TreatiesRecognitionWeek:
http://etfovoice.ca/feature/getting-ready-treaties-recognition-week 
A map of Ontario treaties and reserves:
https://www.ontario.ca/page/map-ontario-treaties-and-reserves#t16
An Overview of Aboriginal treaties:
https://www.thecanadianencyclopedia.ca/en/article/aboriginal-treaties
Resources for educators:
http://www.etfo.ca/BuildingAJustSociety/FNMI/pages/fnmieducation.aspx