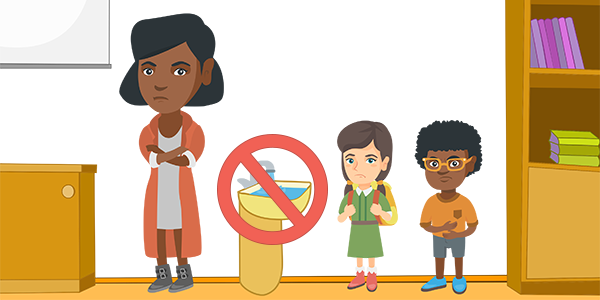 April 24, 2018
TDSB Touts 'We Walk for Water' Campaign as Drinking Water Quality in Schools Questioned
On April 27 schools across the TDSB are taking part in We Walk for Water day, an advocacy campaign to highlight the importance of access to clean water.
This is a campaign that ETT fully supports, but it comes as more and more water sources in TDSB classrooms are being labeled "unsafe," leaving teachers, students, and parents questioning the quality of the drinking water in our schools.
Over the past few years the situation has gotten worse.
Schools are failing lead tests.
Teachers are reporting rusted drinking fountains and faucets that run yellow.
Stickers are being affixed to taps/sinks advising that water is not for consumption.
School-level water safety maps, indicating which sources are potable, have been made difficult for the public to access.
This is a growing health concern that must be addressed to ensure the safety of all students, teachers, and community groups that use our schools.
The culprit here is clear: Ontario's broken Education Funding Formula.
Toronto's schools are aging and rapidly falling into disrepair, as the TDSB's $4 billion repair backlog only continues to grow.
Without sufficient provincial funding, without a fair Education Funding Formula, the Board can only finance stop-gap measures to address this issue, potentially leaving fewer and fewer safe drinking water sources.
This April 27, as schools across the TDSB take part in We Walk for Water activities, we are calling on all teachers, and concerned parents and community members, to use this opportunity to highlight the importance of safe drinking water in our schools.
An image of a sink in a TDSB classroom labeled "handwashing only."
Take Action for Safe Drinking Water and the Schools Toronto Students Deserve
1) Contact the administration at YOUR school. Ask to see YOUR school's water safety map.
Schools across the TDSB have been provided with water safety maps, indicating which water sources within the school are safe for drinking.
These maps have been made difficult to access, but are available to be viewed (only) if a request is made to the school administration.
The more requests made, the greater the message we can send to the Board about the importance of this issue.
2) Sign Our Petition Demanding Action
Sign and share our petition calling for a fair funding formula to ensure safe drinking water in all our schools.
3) Share Our Call for Safe Drinking Water on Social Media
Use our shareable to inform your colleagues, friends, and family about this pressing issue.
Share via Facebook
Share via Twitter
4) Visit FixOurSchools.ca. Help ensure that fixing our schools and the education funding formula are key election issues.
FixOurSchools.ca is a grassroots, non-partisan advocacy group dedicated to increasing funding for school repairs and maintenance, both of which are critical to improving the quality of drinking water in TDSB schools.
Find out how to bring the issue of school repairs to the attention of YOUR local MPP and MPP candidates and help spread the word.