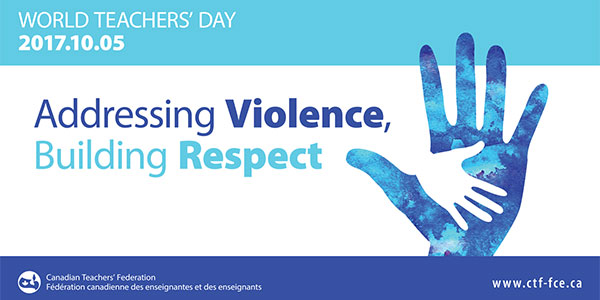 October 3, 2017
Promoting Safe and Caring Schools on World Teachers' Day
Thursday, October 5, 2017 is World Teachers' Day. This year, we're joining with the Canadian Teachers' Federation (CTF) and ETFO in using this day to call for action to address the rising number of incidents of classroom violence against teachers.
This call follows a campaign launched by ETFO in January 2017 outlining the steps needed to make our workplaces and schools safe.
As part of our call to action, we've launched a Violence in Schools portal with information about what to do if you experience violence in your classroom, details of ETFO's multi-year campaign strategy, and other important resources.
We will be continuing to add information to the portal as the school year progresses.
ETT is working closely with other ETFO locals and the ETFO provincial office to inform and educate education workers, parents, and our communities, and to call for proper provincial funding for our schools, including proper training, staffing, and programing resources to adequately meet the needs of students.
In solidarity,
Andy Lomnicki
ETT President