Organize, Educate, Resist!
March in solidarity with colleagues from ETT, ETFO, OSSTF, OECTA, and CUPE, and friends from other labour locals, in Toronto's 2019 Labour Day Parade on Monday, September 2, 2019.
ETT members are asked to meet in Section 7 (on Centre Avenue, just north of Armory Street) at 9:00 a.m. The parade starts promptly at 9:30 a.m.
Limited parade apparel, food tickets, and wristbands (which will allow marchers to enter the CNE grounds) will be distributed to registered participants at the meeting place before the parade starts. Please march with us and then join us after the parade for refreshments.
Registration
Please register online by June 30, 2019, so that we can correctly order the necessary number of t-shirt sizes.
Participants that register before June 30, 2019 will be given priority when t-shirts are distributed before the parade.
Please be advised that there are no specific women's, men's, or children's sizes. A variety of adult sizes will be ordered.
Additional t-shirts may be distributed to late registrants (those registering after June 30), by order of registration, depending on availability.
Please register by June 30, 2019 to ensure you receive a t-shirt.

Only attendees that have registered online and have received a confirmation email will receive t-shirts, food tickets, and CNE wristbands.
No exceptions!
Make a Sign. Speak Up For Public Education!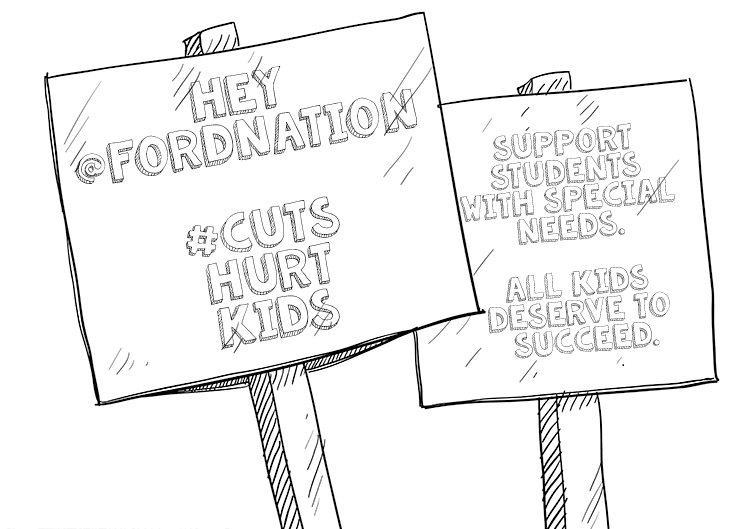 Doug Ford's education cuts hurt kids. We need to build and improve our shared public education system, not tear it down.
Help us broadcast this message at this year's Labour Day Parade by making a sign with the following slogans and/or themes:
Cuts hurt kids.
Children are our future. Don't make them pay for cuts.
Support students with special needs. All kids deserve to succeed.
Protect smaller class sizes.
Protect the schools our students deserve.
Hands off Full-Day Kindergarten.