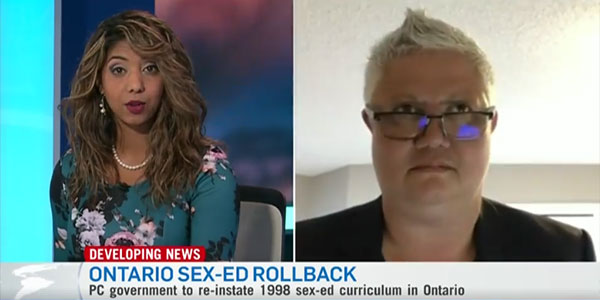 July 16, 2018
Post People's Rally at Queen's Park, ETT President and Vice President Talk Sex-Ed Importance to Media
On Saturday, July 14, 2018, ETT members joined with friends and allies from across the province at Queen's Park for the People's Rally to protest Doug Ford's decision to rollback sex-ed, cut school repair spending, and cancel the inclusion of more Indigenous content in the classroom.
Teachers were also out in force in support of robust public services, equity in public policy decisions, and marginalized groups of people across Ontario.
After the rally, ETT President Joy Lachica talked with CTV News about the importance of sex-ed, and, at the rally, ETT Vice President Yolanda B'Dacy spoke with French-language Radio-Canada.
ETT President Joy Lachica on CTV News
On Saturday, July 14, 2018, after the People's Rally, ETT President Joy Lachica spoke with CTV News about teachers' concerns regarding the province's decision to rollback sex-ed.
The 2015 Health and Physical Education Curriculum "encourages and supports teachers in providing information about healthy relationships, safe and caring school environments, and anti-bullying," said ETT President Joy Lachica to CTV News. "It helps to teach inclusion and diversity for students that come from all sorts of families."
"In 1998 we barely had email," she said. "With the internet and cyber-bullying, and all the things that have come along with our age of technology, this health and phys-ed curriculum was essential."
"So much work, research, and background gathering of information went into the writing of the original 2015 document, and that's why we should be keeping it. It's current, it's where we should be, and it's ludicrous to think that we should be going backward to 1998…We need to keep up with the times and provide what's needed for our students."
"[As teachers], we recognize what the issues are. We realize that students are at risk about the very things that the 2015 health curriculum addresses."
"This is what it means to be a good teacher, to teach these civic things that students will carry with them into their lives and into society."
Watch the CTV News segment with ETT President Joy Lachica on Facebook.
ETT Vice President Yolanda B'Dacy Speaks With Radio-Canada
English
"We're really surprised he did that right away and our teachers are wondering what they're going to teach in September, how are they going to protect our students from online attacks, […] and really talk about kids in the LGBTQ community."
– Yolanda B'Dacy, Vice President, Elementary Teachers of Toronto Union
French
« Nous sommes vraiment surpris qu'il ait fait ça tout de suite et nos professeurs sont en train de se demander ce qu'ils vont enseigner en septembre, comment est-ce qu'ils vont protéger nos élèves contre les attaques en ligne, […] et parler vraiment des enfants de la communauté LGBTQ. »
– Yolanda B'Dacy, vice-présidente du syndicat des enseignants de l'élémentaire de Toronto
Read the full article and see clips from the rally on the Radio-Canada website.