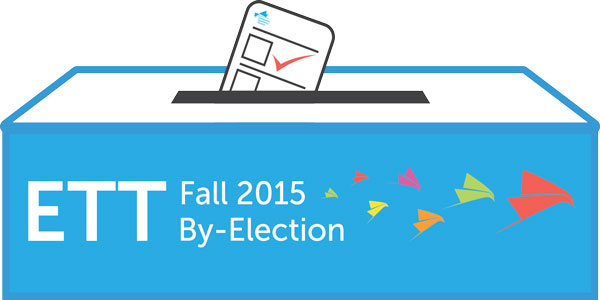 Phase Four – Fall 2015 By-Election
The results are now in!
ETT conducted elections to fill vacancies for the position of Executive Officer (two permanent positions and one interim position). The two candidates with the highest vote count will fill the two permanent positions, and the third position is an interim vacancy, which will be filled by Executive appointment based on the third highest vote count.
Thanks to all the candidates who participated in this by-election, and thanks to all the members who took the time to vote. The full duties of all three positions, including Families of Schools designations, will be determined in the coming weeks.
Here are the Fall 2015 By-Election results.
Esther Ashby: 183
Yolanda B'Dacy: 343 Elected
Yvette Blackburn: 206
Michelle Brown: 49
Mohammed Jeewa: 56
Joy Matea Lachica: 238 Executive appointment
Michelle-Shayne Matin: 61
Nancy McKay: 131
Saroj Patel: 152
Cecil Peter: 7
Reginald Rosengren: 58
Pyara Sidhu: 27
Colin Strange: 395 Elected
Spoiled ballots (undervote): 1
Total ballots: 1,907
Chief Returning Officer (CRO) Contact Information
Name: Stephen O'Brien
Email: ettcro2015@gmail.com
All communications, inquiries or concerns regarding the Fall 2015 By-Election should be directed by email solely to the CRO.