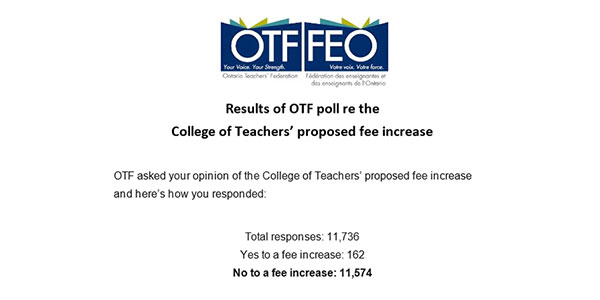 December 6, 2017
Ontario Teachers Say NO to Proposed OCT Fee Increase
The Ontario Teachers' Federation (OTF) recently surveyed teachers across the province regarding the Ontario College of Teachers' proposed fee increase.
98.6% of teachers said "NO" to a fee increase.
Survey Results
Total responses: 11,736
Yes to a fee increase: 162
No to a fee increase: 11,574
On Thursday, December 7, 2017, OTF President Chris Cowley will present OTF's and teachers' concerns to the OCT Governing Council.
OTF will be sending out an email of the presentation late on Thursday and the results of the Council's vote on a fee increase as soon as it is available. To subscribe to receive OTF news bulletins, please visit the OTF website.
ETT members can make their views known by emailing the College directly at info@oct.ca.
ETFO Takes Action
On Tuesday, December 5, 2017, the ETFO Provincial Executive unanimously passed a motion condemning the proposed OCT member fee increase, and sent a letter to the Governing Councilors informing them of the motion and calling on them vote against the fee increase.
Download the Letter [PDF]
The ETFO Executive will be taking further action on Thursday, from 8:00 – 9:00 a.m., outside the OCT building at 101 Bloor Street West to send a strong message to the members of the Governing Council regarding this unfounded fee increase.