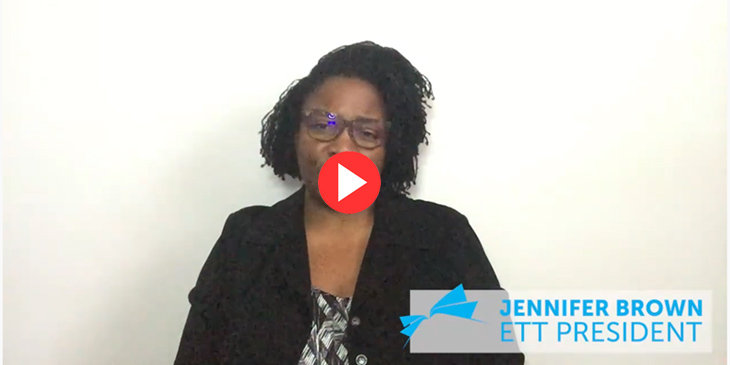 November 23, 2020
Message From ETT President Jennifer Brown: Demanding Action, Demanding Change
In her latest video address, ETT President Jennifer Brown discusses the stress and unreasonable workload our members are facing and how ETT is taking action to hold the Board to account and raise the issues you've shared.
"We hear you, we're advocating for you, we're demanding changes for you," says Brown.
Watch the Video
Stress and Unreasonable Workload
Improving TDSB Communications
"You are not taking the best care of yourself if you are trying to meet the unreasonable workload demands that the TDSB has put upon you," says Brown.
Performing work-related duties outside of the instructional day, such as checking email, reinforces the Board's bad behaviour and practice of sending important communications to teachers late on Friday or outside of working hours when it's difficult to respond.
ETT has asked that the TDSB stop this practice and ensure that important information is shared with ETT members during the middle of the week and during working hours, so they can properly digest the information and respond accordingly.
"Late Friday messages do not allow members to ask questions and can cause stress," says Brown.
Voluntary Work
"Outside of an emergency situation where the safety of students is in question, performing tasks that are outside of your core duties as listed in the Education Act is considered volunteering your time," says Brown.
These tasks may include:
Voluntary staff meetings;
Finding and billing interpreters;
Documenting absences; and
Clerical work related to attendance.
"Staff meetings that are deemed voluntary are really voluntary, whether attendance is taken or not," says Brown.
If you are instructed that you must perform tasks outside of the Duties of Teachers, as per the Education Act, please contact your ETT Executive Officer for follow-up and immediate support.
ETT is Taking Action
Grievance
ETT is filing an omnibus grievance regarding the TDSB's failure in its implementation of Virtual School and COVID-19 and return to school policies to comply with the:
Collective Agreement;
sections of the Education Act and its regulations; and
the Ontario Human Rights Code (OHRC).
We need each and every ETT member to complete our grievance information form so we have the evidence to hold the Board to account and improve the situation in virtual and face-to-face schools.
"Your evidence is essential," says Brown.
Learn more about ETT's omnibus grievance and provide your evidence.
Watch: ETT Vice President Jamie Thom discusses the grievance and arbitration process.
Round Table Discussions
"We meet regularly with the Board to raise the issues you've shared with us," says Brown, discussing ETT's weekly round table meetings with the TDSB to:
Raise the concerns we receive from members directly with the Board.
Defend our Collective Agreement rights.
Ensure that the TDSB is taking every action possible to address COVID-19 to protect the health and safety of our members and the students in their care.
"Our meetings are having an impact. Movement is happening. Change is coming, if slow."
Collective Action Campaign
ETT will be holding virtual meetings for every Learning Centre in the TDSB to discuss our collective action campaign.
"Through this collective action we will demand the changes necessary to improve your working conditions during this pandemic," says Brown. "We need each and every ETT member to take part and attend these meetings."
Please stay tuned to the ETT website and ETT Weekly for further details.