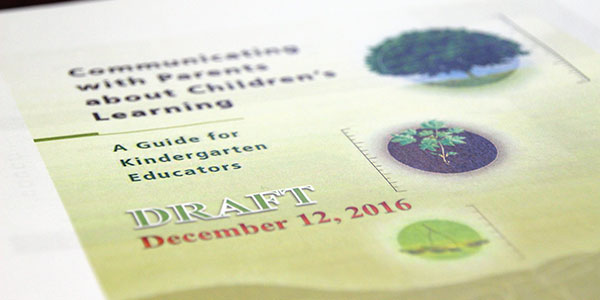 March 23, 2017
Kindergarten Teachers: Give Your Feedback on the Ministry's Communicating with Parents about Children's Learning Draft Document
The Ontario Ministry of Education is requesting feedback from kindergarten teachers on the draft of its Communicating with Parents about Children's Learning: A Guide for Kindergarten Educators [PDF] resource.
As the title suggests, the focus of the document is on communicating with parents. The Ministry states that the document is to act as a resource "to support educators in reviewing and reflecting on their practices with respect to writing comments on the Kindergarten Communication of Learning templates, providing feedback, and engaging parents in ongoing dialogue, all with the aim of supporting growth in children's learning."
The deadline to submit feedback is Thursday, March 30, 2017.
ETT Members are strongly encouraged to complete the feedback form and share their thoughts.
Ministry's Communicating with Parents About Children's Learning Feedback Form