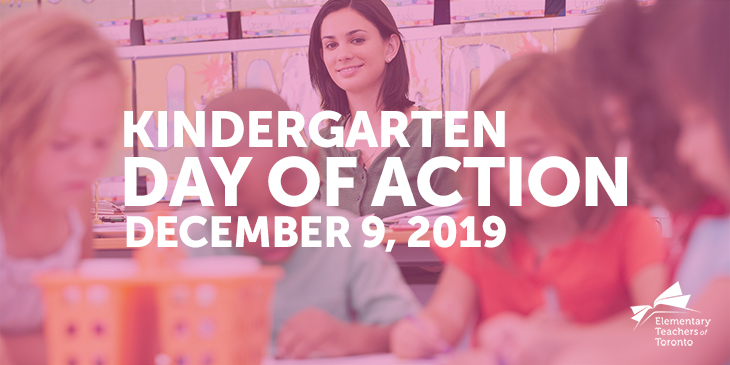 November 28, 2019
Kindergarten Day of Action – December 9
Monday, December 9, 2019 is our Kindergarten Day of Action.
Join with your colleagues, before or after school, to connect with parents and ask them to sign our petition calling on the Ontario government to:
keep Kindergarten classes capped;
preserve the Kindergarten teaching model; and
and restore the TDSB's education budget so it can continue the Kindergarten Intervention Program (KIP) in September 2020.
Within the last year, the Ford Government has made it clear that they are talking within their party about the Kindergarten model. From various sources we have heard cost saving suggestions such as removing the OCT from the classroom and taking away caps on class size. This will result in job losses, not to mention detrimental changes to program delivery.
This must be stopped.
Take Action at Your School
How to take action on December 9:
Gather outside your school, on the sidewalk, before the instructional day begins in the morning or in the afternoon after the instructional day ends.
Use the ETFO Kindergarten pamphlet provided to schools as a resource to speak to parents and as a handout.
Ask parents to sign our petition in support of the current Kindergarten model, preserving KIP, and keeping Kindergarten class sizes small.
Every school will receive ETFO Kindergarten pamphlets and two sets of petitions, to arrive in schools the week of December 2, 2019.
White Petition: for parents, guardians, and community members. Please have your colleagues to commit to minimum 1 page of parent/community signatures.
Ivory Petition: for teachers. Please ask each colleague to sign in support.
The petition examples are attached below, as is the instructional letter sent to schools.
Please return all petitions to ETT no later than December 13, 2019.
ETT Office
4211 Yonge Street, Suite 300
Route NE14 (Board Courier)
Attention : Roz Geridis
Kindergarten Petition FAQs
Reminder: Monday, December 9, 2019 is the day of action. Can be before school, after school, or any time which works for your school.
---
1) Can we send the petitions in later?
No, we need petitions in for December 13, 2019. We plan to share these petitions with ETFO so they may be used during bargaining. We would like to share these with ETFO before the holiday break so there is some time to think about how to use them.
---
2) Can we collect signatures on board property?
No. You must be off board property to collect the signatures. The sidewalk is a good spot. Parents who are helping to collect signatures must be off board property too and join you on the sidewalk.
---
3) Can we use social media, email, apps to communicate this petition with parents?
If the sign up or collection of email addresses were collected on the understanding it was to communicate about their child's learning, then no.
---
4) Our students use a school bus. We don't see the parents. How do we collect signatures?
Try to have a conversation with the class parent. The class parent can send an email about the petition, but you can't. Or if there are a few parents who do drop off/pick ups, try to have conversation with the parent(s) and see if the parent(s) would be willing to get in touch with the rest of the class.
---
5) Can I send the petition home?
No, this is about having one on one conversations and getting signatures.
---
6) Is this translated?
No. This petition is not available translated. Please ask your parent community to help you translate the information.
---
7) Can I share this with parent council?
Yes. Please do so. They are a good voice to help you share the message.
---
8) Where do I return the signed petitions to?
Use board courier. You can use the same envelope we gave you.
ETT
4211 Yonge St, Ste 300
Route NE14
Attn: Roz Geridis
Please DO NOT fax, email or mail them in. Just board courier.
Thank you for getting the signatures and helping to stop the FORD government destroy the public education we know.
Contact Information
If you have any questions about December 9 or the petitions, please contact:
Amber Bowen
Executive Officer
416-393-9930 x228
abowen@ett.on.ca
Roz Geridis
Executive Officer
416-393-9930 x226
rgeridis@ett.on.ca