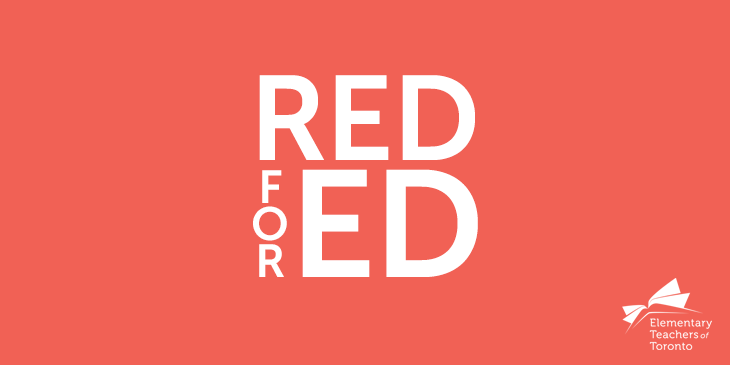 RedForEd: Every Friday
Every Friday of the school year, starting March 22, 2019, ETT members, parents, students, and concerned community members have been taking part in #RedForEd, a protest of the Ford government's draconian cuts to our shared public education system.
Spread the word to your colleagues: let's go #RedForEd and show our power and solidarity, as we stand up to defend our shared public education system from the Ford government's attacks.
Send us YOUR #RedForEd Photos!
Your #RedForEd photos will be included in our gallery and featured in ETT Weekly.
Photos
We are asking our members and allies to wear Red for Education every Friday moving forward. Please spread the word to your colleagues. This is an easy way to show your support and solidarity and start a conversation about public education in your school and community.
Tell the government you don't support larger classes:
Having successfully defended class size caps in Kindergarten and grades 1-3 we are asking members and allies to contact the Minister of Education and their local MPP to let the government know that you do not support increases in class size in grades 4-8 and high school. To get started visit: www.BuildingBetterSchools.ca/class
Tell the government you support fair hiring practices:
In response to proposed changes to Regulation 274, we have set up an action on BuildingBetterSchools.ca/fairhiring. Members are invited to send a letter to the Minister of Education and their local MPP. The letter calls on the government to maintain Regulation 274, and insists that it provides a fair, consistent and transparent hiring process for long-term occasional and permanent teaching positions.
We will keep you updated as more actions are planned across the province and we welcome your ideas, energy, and creativity in defending public education.
In solidarity,
Sam Hammond
President
Elementary Teachers' Federation of Ontario
The #RedForEd movement started in the United States in 2018, and was strengthen and solidified through the mass demonstration against corruption and cuts to the public education system.
Red for Ed is a grassroots movement led by Arizona Educators United, and is part of a national outcry from teachers and education advocates about low salaries. Protesters in West Virginia, Kentucky and Oklahoma have seen success after similar strikes by educators.  (CN Arizona PBS, 2018)