COURAGE IN THE FACE OF ADVERSITY: FEDERATION DAY
For #FedDay2018, we're exploring the theme of Courage in the Face of Adversity.
The event will take place Friday, December 7, from 9:00 AM to 3:30 PM (registration begins at 7:30 AM). The morning session is open to OCTs and other non-ETT members. Workshops are members-only.
You'll be greeted with the sounds of Pan Fantasy Steelband playing away, invoking thoughts of warmer, brighter, and peaceful days amidst a frosty winter morning. Learn about the current education, political, and labour issues we face as educators; activating, balancing pedagogy, and organizing as a union through our workshops in the afternoon. Engage in critical discourse and get inspired with addresses from esteemed guests Jagmeet Singh, the leader of the NDP; Farrah Khan, an educator, speaker and activist, as well as Matthew Green, former City Councilor for Ward 3 in Hamilton.
Guest Speakers
Farrah Khan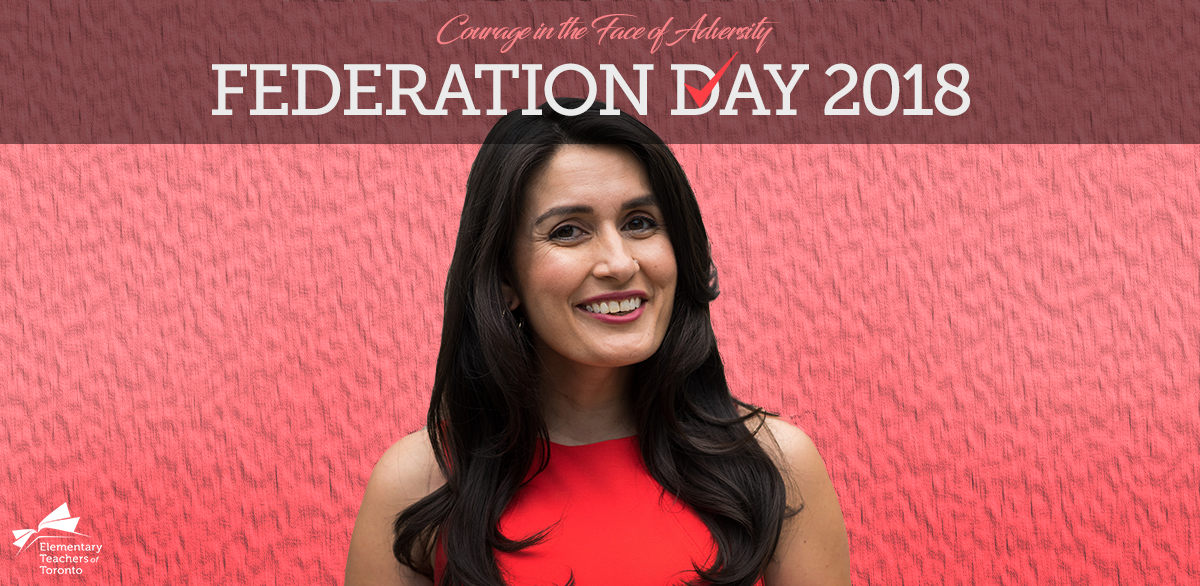 Armed with formidable courage and a breadth of knowledge on her subject matter, Farrah Khan is a nationally recognized speaker and advocate that leaves a lasting impression. Steadfast in her commitment to equity, consent culture, women's and human rights, Farrah continuously upholds ETT values. She also co-chairs the G7 Gender-Equity Advisory Council and is a member of the Community Advisory Group for the Human Rights Commission and the Federal Strategy Against Gender-based Violence Advisory Council.
Farrah was also a prominent member of the first provincial roundtable on Violence Against Women — injudiciously disbanded by Doug Ford and the PCPO; further adding to our resolve to stand against them.
Matthew Green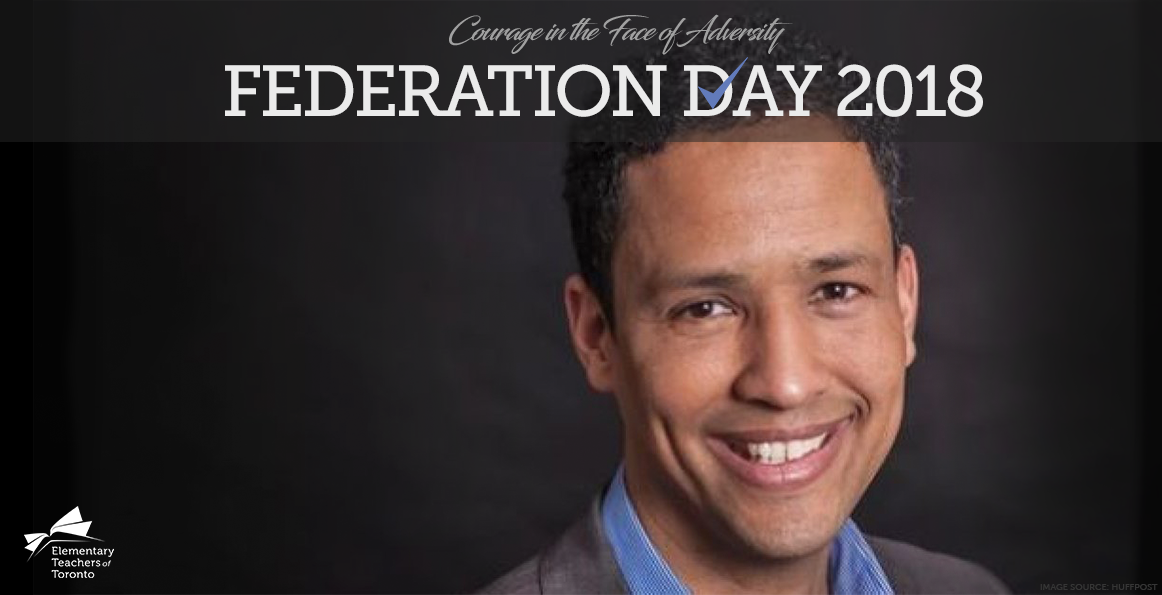 Matthew Green has a history of dedicating himself to building progressive communities. Elected in 2014 as Councilor, he made history as the first Black person in Hamilton City Council. His commitment to his purpose put Hamilton on the map as the first city in Ontario to adopt an environmental bill of rights. First-hand experiences can push us to activate and engage – as with Matthew Green, whose personal experience with police carding and racial profiling lead to strong advocacy, and in extension, a direct impact on provincial policy. Matthew exemplifies what it means to take adversity, face it boldly and courageously, and create a lasting impact for communities through it all.
Jagmeet Singh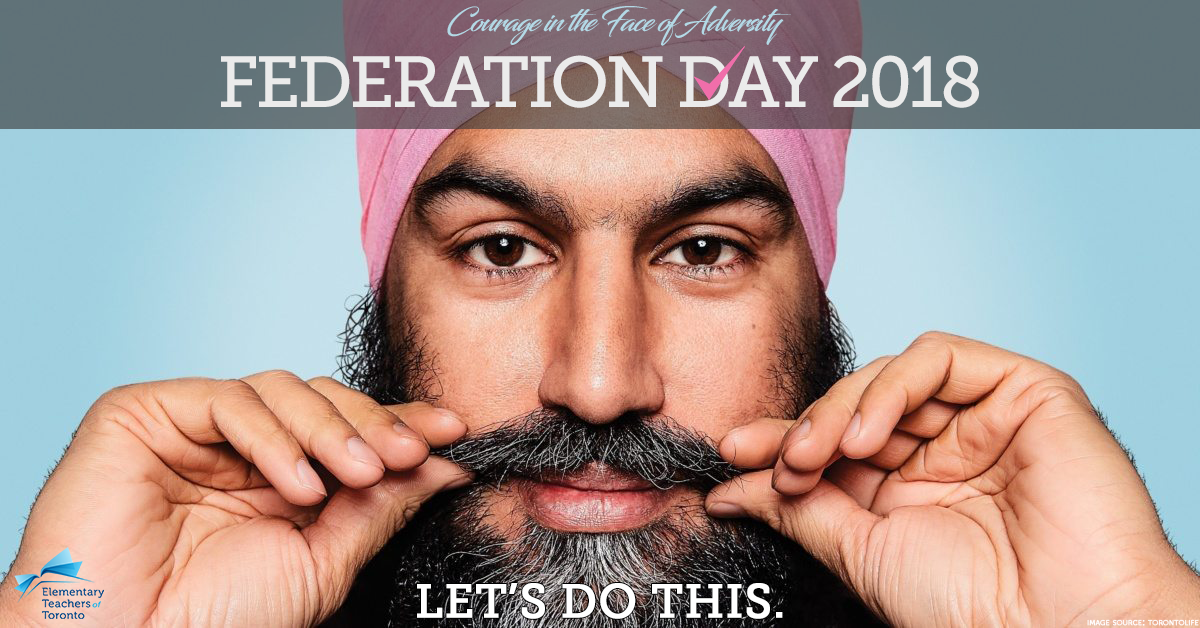 In the era of dog-whistle politics, Jagmeet Singh has established himself as a force to be reckoned with. He made Canadian history, too – as the first turbaned Sikh to sit in Ontario's legislature, to the first person of a visible minority group to lead a Canadian federal political party. From his experiences in civic engagement, practicing criminal law to high-profile politics, Jagmeet Singh has invaluable input for educators and organizers.
Why is Federation Day important? Read the #FedDay2018 statement from President Lachica.
Workshops
We're excited to offer professional development workshops in the afternoon! All workshops are self-directed, self-selected. Please register for workshops promptly, as they fill up quickly and are projected to reach maximum capacity.
Unconscious Bias:  Challenging Our Assumptions, Transforming Our Practices | Alice Te, ETFO Equity and Women's Services
This interactive workshop explores areas of bias (learned stereotypes) that are automatic, unintentional, deeply engrained within our beliefs, and have the ability to affect the teaching environment. We will discuss ways to address and overcome these biases to better engage our students. (max 50 participants)
TPA/NTIP | Sonia Ellis-Seguin, ETFO PRS
This workshop will lead participants through the TPA/NTIP process. We will explore what's actually required for a successful TPA/NTIP and make the process more comfortable. (max 50 participants)
 Action on Violence | Nicolette Lane, ETFO Health and Safety
This workshop will provide members with resources and strategies to deal with violent incidences in their schools. (max 50 participants)
Rethinking the IEP: Innovative Empowerment in Practice | Nigel Barriffe ETT EO; Kim Fry and Vana Pistiolis, ETT members
Through this workshop we will consider ways you can innovate with your fellow teachers to look at needs and planning processes to advocate for improved resources, more respect for teachers and solidarity among all staff. (max 50 participants) 
Pension & Retirement Benefits | Anita Chamberland, OTIP; David Wing, ETFO PRS, and Roz Geridis, ETT EO
This workshop is for teachers at all stages of their careers and topics include: Ontario Teachers Plan (OTPP), working after retirement, immediate versus deferred pensions, occasional and part-time teaching, retiree health, dental and travel benefits. (max 100 participants)
Community Organizing to Win: Strategies That Work! | Matthew Green, former Hamilton City Councilor Ward 3
This workshop will explore basic organizing strategies that build solidarity, momentum and the groundwork needed to win on issues that matter. (max 100 participants)
Strengthen Your Straight Talk! | Sumu Sathi, BluntTRUTH podcast
In this workshop you will learn the secrets to assertive communication. Specifically, how to influence others while validating your feelings and standing up for yourself. Eliminate personal blocks and build your confidence to be assertive and diplomatic in any situation. (max 50 participants)
Caring for a Loved One: Special Leave Workshop | Natasha Rodriguez, ETT EO
ETT members are teachers but also family members caring for babies, small children, aging or ailing parents and sometimes significant others. This workshop helps members navigate the policies, procedures, and forms to access the leaves and supports they need to be there for their families. (max 50 participants)
Leadership Panel: "Moving on: our next steps"
Our union and education leaders have a few things to say: join us to hear more about their thoughts, perspectives, and guidance on paving a path to success amidst trials and tribulations.
Panelists present between 1:15 p.m. to 3:00 p.m. Question and Answer period available before the presentation ends.
John Malloy, Director of Education
Sam Hammond, ETFO President
Joy Lachica, ETT President
Deena Ladd, Workers Action Centre Organizer
Contact
Felicia Samuel
Executive Liaison, Labour Education and Leadership Committee
416-393-9930 ext. 222
fsamuel@ett.on.ca
Please note that there is no transportation provided this year. Based on the Federation Day Bus Service survey responses, the organizing committee determined that bus transportation is not viable. 
Due to size and availability, as well as solidarity for locked-out IATSE Local 58 members at the time, the organizing committee determined the Toronto Congress Centre as the best venue. The venue is accessible from the 401, TTC, and UP Express. 
Registration begins at 7:30 AM. The event begins promptly at 9:00 AM.