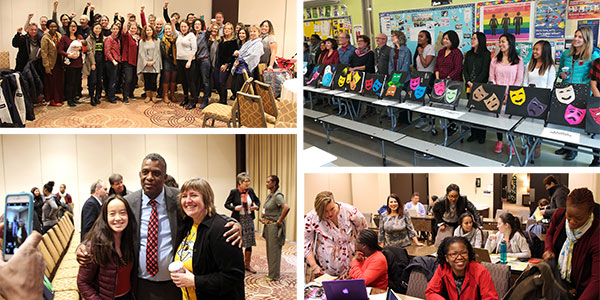 December 6, 2017
Federation Day 2017 – Thank You!
Thank you to our members for making Federation Day on Friday, December 1 a phenomenal success.
This year, instead of a single location, we responded to the call from our members and tried something a little different, though no less grand. With the support of our tremendous Standing Committees we facilitated more than 50 professional development-focused workshops and community connections across the city.
From our New Hire Conference with noted Toronto educator Karl Subban to sessions on building power in our schools through union organizing with Jane McAlevey, it was a remarkable day!
Of course, all of this would not be possible without the tireless work of our Professional Development Committee, whose dedication, drive, and organizing skills make Federation Day possible.
We would also like to extend our deepest thanks to our presenters for facilitating such a variety of inspiring workshops, the vendors at our educational tradeshow, and the dozens of community connections that partnered with us to offer tours and educational program information.
Finally, to our members, thank you once again for your show of solidarity. Federation Day continues to be possible through your participation and support.
– On behalf of the ETT Executive
Federation Day 2017 Photos
See photos from the day on Facebook or Flickr.
Thank you to all of the ETT members that contributed photos to our gallery.