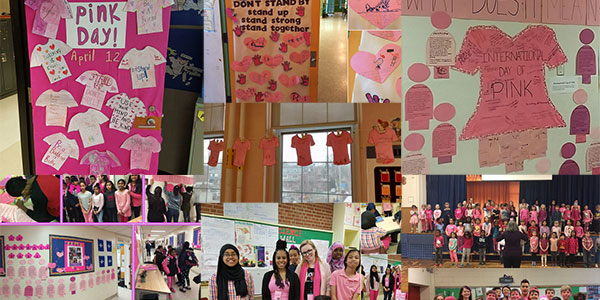 May 3, 2017
ETT's International Day of Pink 2017 Contest Winners
ETT is proud to announce the winners of our 2017 International Day of Pink Twitter Contest.
Between April 1 to 12, 2017, ETT members were invited to celebrate the Day of Pink by highlighting the anti-homophobia and anti-transphobia activities in their class, staff-room, and schoolyard.
The response we received was nothing short of amazing, with members from across the TDSB submitting fantastic artistic displays, classrooms bathed in pink, and students and staff taking part in a wide range of Day of Pink activities.
Thanks to all of the members that participated.
Winners
1) Trevor Ellis, Jackman Avenue Junior Public School
Jackman Ave School celebrates #ETTdayofPink by decorating doors with messages of inclusivity. pic.twitter.com/lZKGz8PXAE

— Trevor Ellis (@trevorellis) April 18, 2017
2) Liz Clarke, Meadowvale Public School
#ETTDayofPink 2017 @Meadowvale_TDSB #GSA @TDSB Elementary Ss taking the pledge to defend against homophobic and transphobic bullying. pic.twitter.com/h0yw0aFoTH — E Clarke (@yardieliz) April 13, 2017
3) Evette Reece, Howard Public School
We stand up against bullying, homophobia and transphobia! Check out the final T-shirt designs. #ETTDayofPink @TDSB_HowardPS pic.twitter.com/pNES5puLtN

— Evette Reece (@MsLiteracyQueen) April 12, 2017
Honourable Mentions
Mike Mahon, Meadowvale Public School
Judy Baxter, Meadowvale Public School
(no name provided), The Grove Community School
Ms. Hopkins, Eglinton Public School
Neelima Bhumri, Lawrence Heights Middle School
Ms. Bell, Orde Street Junior Public School
Zerina Zaimi, Adam Beck Junior Public School
Laura McCoy, Winona Drive Senior Public School
Gordon Nore, Earl Beatty Junior and Senior Public School
Mme Balaisis, Fern Avenue Public School
Mme Ristic, Earl Beatty Junior and Senior Public School
Marci Becker, Lambton Park Community School
Allister Geonanga, Hawthorne II Bilingual Alternative School
Tami Dacks, Alexander Muir/Gladstone Avenue Public School
See all of the entries with the hashtag #ETTDayofPink.
About the International Day of Pink
The Day of Pink is an international day against bullying, discrimination, homophobia, transphobia, and transmisogyny. Each year, on the second Wednesday of April, millions of people around the world wear pink and go pink to take a stand.