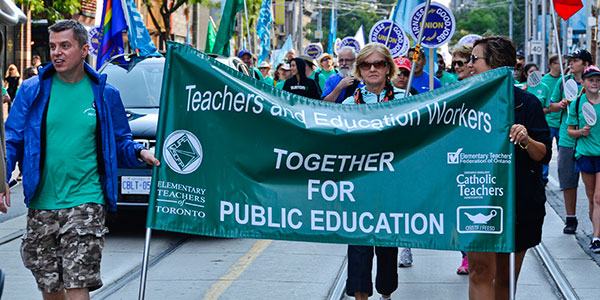 September 6, 2017
ETT Takes Action at the Toronto Labour Day Parade 2017
On Monday, September 4, 2017, ETT members joined with colleagues from ETFO, OSSTF, OECTA, CUPE, and thousands of friends from other labour locals to march in solidarity in the 2017 Toronto Labour Day Parade.
Teachers and education workers took this year's parade theme, to "Step Up and Speak Out," to heart, by attending in large numbers to champion workers' rights and to call for improvements to our shared public education system.
"The Labour Day Parade is an important opportunity not only to take a stand for the schools Toronto students deserve, but to celebrate the achievements of the labour movement-at-large and to look forward towards a building a fair and just society for all workers," said ETT Interim President Andy Lomnicki. "Thank you to all of the ETT members and members of other labour locals that participated in the parade."
See more Labour Day photos from the Toronto & York Region Labour Council
Photo courtesy of the Toronto & York Region Labour Council (@TorontoLabour).