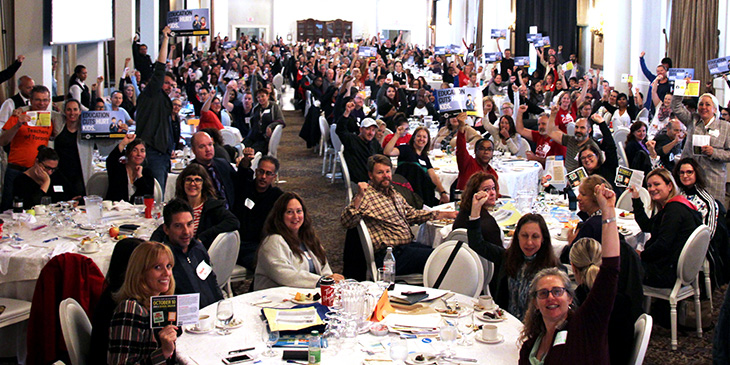 October 3, 2019
ETT Stewards Get Bargaining-Ready at October Training
On Wednesday, October 2, 2019, more than 500 ETT Stewards, Alternates, and Organizers attended our bargaining-focused Steward Training, ready to build power and organize to realize the schools our students deserve.
It was a packed house at the Liberty Grand for our full-day session, with Stewards from more than 450 schools across the TDSB in attendance.
Opening Remarks: ETT President Joy Lachica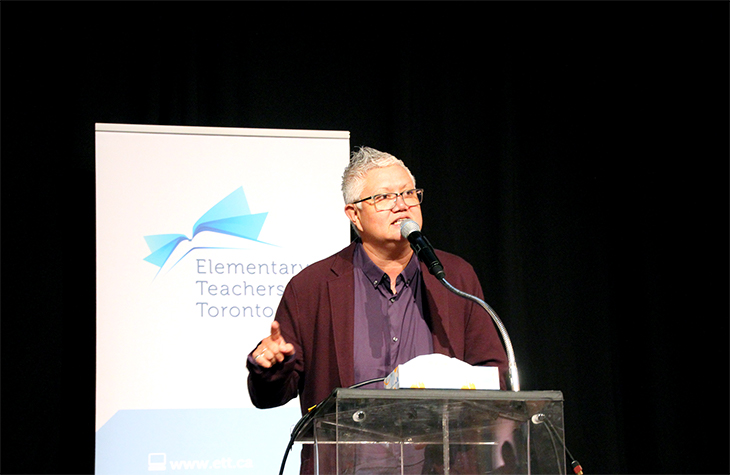 "As Stewards, your commitment and dedication is a beacon to all our members," said ETT President Joy Lachica in her opening remarks, thanking Stewards for the important work they do every day to protect and defend members' rights.
With the announcement that CUPE will be expanding strike action to a potential full withdrawal on Monday, October 7, Lachica reiterated ETT and ETFO's full support and solidarity with CUPE's 55,000 education workers as we work together to protect learning and working conditions.
"We wear purple today as we stand side-by-side with CUPE education workers across Ontario," said Lachica. "Education in this province is under attack. So, what do we do as teachers, education workers, and parents? We stand up. We fight back. Only through solidarity can we achieve our goals for Ontario's communities, families, and the future of our shared public education system."

She further encouraged Stewards to join the province-wide action on October 10, talk to parents, and organize a Walk-In at their school to demonstrate our unity in opposition to the Ford government's cuts.
Randy Robinson: Ontario Has a Revenue Problem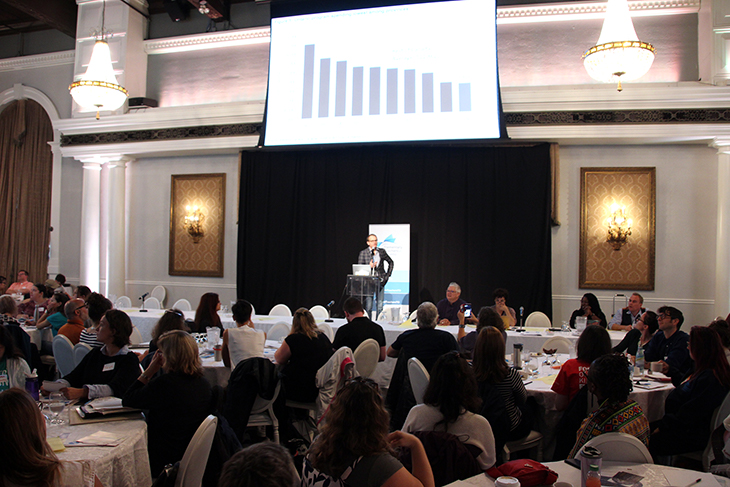 The day also featured a presentation from Randy Robinson, Director of the Canadian Centre For Policy Alternatives-Ontario, tying the Ford government's cuts to education to the systemic, and long-standing under-funding of public services in Ontario.
"Ontario is the richest it has ever been," said Robinson. "Yet our province spends less per capita than any other province on services. The reason why? We don't collect enough revenue."
Collective Bargaining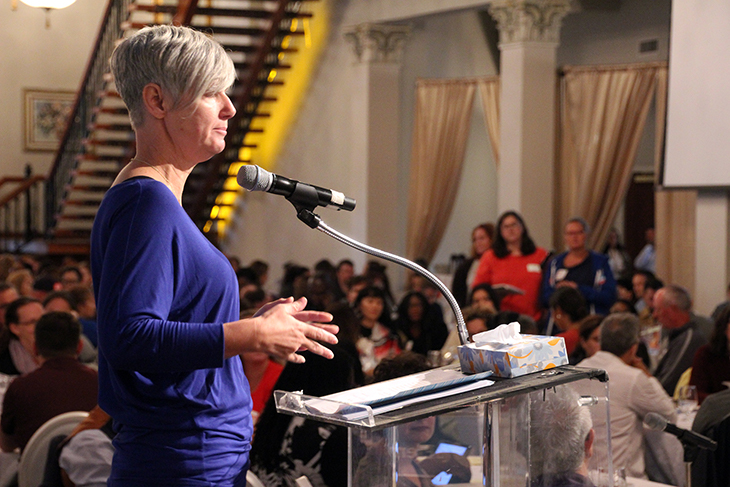 ETT's ETFO Central Bargaining liaison, Kelly Hayes, was in attendance and took questions from Stewards regarding bargaining at the provincial table and the upcoming Central Strike Vote.
ETT Chief Negotiator Helen Victoros also walked Stewards through the Local Bargaining process and shared details about ETT's local preliminary submission.
ETT's Strategic Plan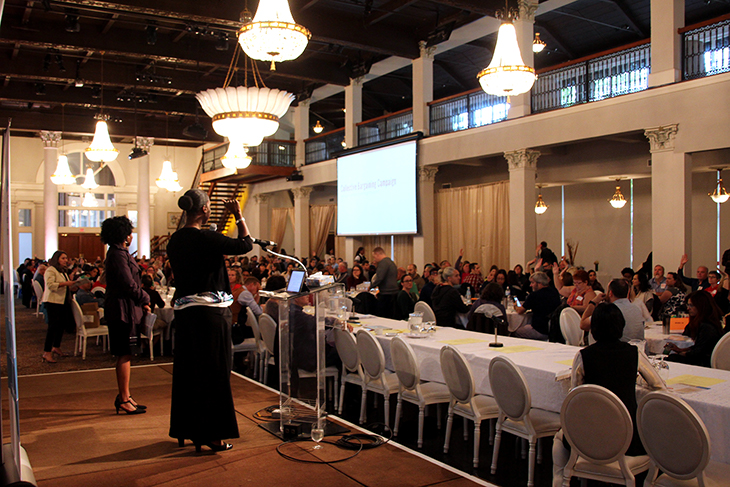 ETT Vice President Yolanda B'Dacy, and Executives Felicia Samuel and Natasha Rodriguez-Burford, presented the Fall 2019 ETT Members' Guide to Stewards. The guide is based on the ETT Strategic Plan, which calls for five initiatives:
Wage a comprehensive collective bargaining campaign—strengthen our readiness for bargaining support.
Ramp up the fight against the education cuts—strengthen ties with our allies, especially parents.
Continue to strengthen ETT's school-based organization
With our allies, turn up the heat on PC MPPs—hold them responsible for cuts to schools in their ridings.
Advance the ETFO education agenda Building Better Schools.
Copies of the Fall 2019 ETT Members' Guide have been sent to every school.
Download the Fall 2019 ETT Members' Guide (Letter Format) [PDF]
Download the Fall 2019 ETT Members' Guide (17×11) [PDF]
Province-Wide Walk-In on October 10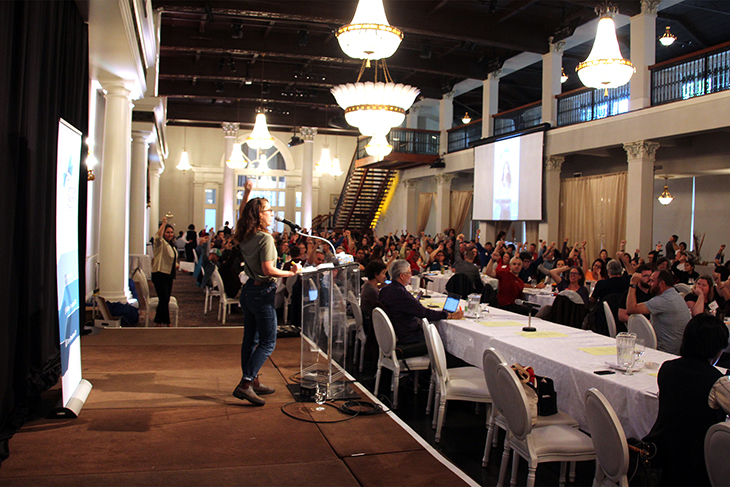 ETT invited West End Parents for Public Education organizer Rachel Huot to speak to Stewards about the upcoming province-wide Walk-In on October 10.
How to Take Action on October 10
Take action on October 10 before the school day begins
All of the October 10 Walk-In Action resources, including flyers, shareables, and guides, can be found here: https://linktr.ee/schoolwalkins
Video: Teachers United
THE TEACHERS UNITED WILL NEVER BE DEFEATED!! ✊✊✊#ETTStewards showing their #ETFOStrong power at our training session. pic.twitter.com/PcqfLzclee

— Elementary Teachers of Toronto (@ElemTeachersTO) October 2, 2019
Photos
Additional photos will be posted on the ETT website and to our Flick and Facebook pages shortly.