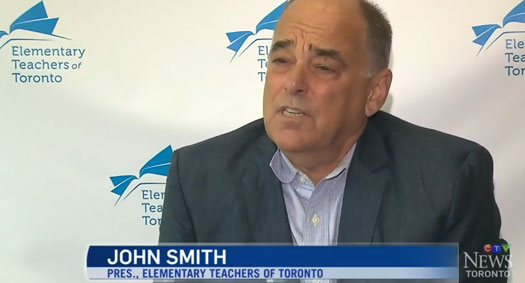 September 21, 2015
ETT President John Smith Speaks to CTV About Escalating Job Action
On Friday, September 18, 2015, CTV Toronto spoke with ETT President John Smith about escalating job action.
The segment highlights certain Work-to-Rule actions that teachers will be taking, such as not running extra-curricular activities on Wynne Wednesdays, as outlined in ETFO Collective Bargaining Bulletin #29. The segment also notes that ETFO is prepared for increased job action in October, including the possibility of rotating one-day strikes.
In the interview, John notes that the current round of bargaining is not about salary. He stresses that ETT Members are fighting for smaller class sizes, in addition to student safety. John emphasizes that elementary school teachers work in different conditions and have different needs than secondary school teachers, which is why members are not willing to accept the same deal.