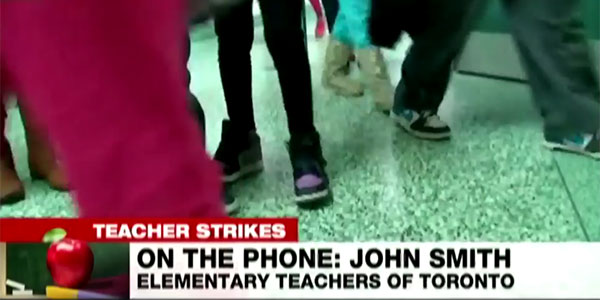 June 17, 2015
ETT President John Smith Speaks to CP24 Regarding TDSB Decision to Send Out Report Cards
On June 16, 2015, ETT President John Smith spoke to CP24 about the TDSB's decision to send out students' report cards, adhering to its responsibilities under the Education Act.
"I'm really pleased," says John. "The TDSB is finally honouring the work that teachers have done to prepare, to assess, and evaluate, and prepare the marks for students at the end of the year."
"They're doing what many of the other boards around the province already said they were going to do."
"We were always providing marks," explains John. "What we weren't doing was providing Ministry directed comments, which teachers and parents have long complained don't reflect students' progress."
"Every elementary teacher in the TDSB has provided marks to the administration, as is the normal process for reports. It's the Board's responsibility then, under the Education Act, to review those marks and provide them for parents."
Was this a workload issue, as the TDSB initially claimed? No, says John.
Normally, principals have to read, correct, and review every students' report card and comments. Only entering marks cuts their workload in half.
Regarding negotiations, John says the goal is "building better schools."
"We're talking about class sizes. We're talking about the loss of special education teachers. We're talking about school buildings that need repair. The Ministry and the Ontario Public School Boards' Association (OPSBA) have refused to discuss those things with us. So, we implemented a work-to-rule that would not affect students. It affected EQAO, a Ministry initiative, and the comments that are Ministry driven."
"The TDSB has turned the situation around and has said that teachers are not doing their job, which we are. We're reporting and evaluating our students."
"The TDSB is playing politics," concludes John. It's trying to pit parents against teachers and the union to influence the bargaining process, when the union is the only participant at the table advocating for students and our shared public education system.