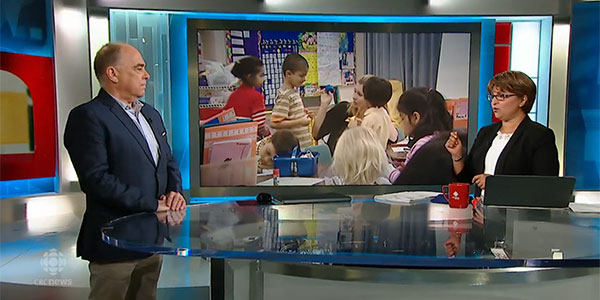 May 11, 2015
ETT President John Smith Speaks to CBC and CP24 About Work-to-Rule
On Monday, May 11, 2015, ETT President John Smith spoke with CBC News and CP24 about the phase 1 of ETFO's work-to-rule strike action.
The work-to-rule, explains John, targets Education Ministry objectives and the government's politically motivated initiatives, not students.
The action, it is hoped, will bring the Ontario Government and the Ontario Public School Boards' Association (OPSBA) back to the bargaining table with an incentive pursue an agreement that improves both students' learning conditions and teachers' working conditions.
The demands that the government and OPSBA have made at the table thus far have focused on tightening bureaucratic control and creating barriers between students and their teachers, through increased class sizes and rigid administrative control over teacher preparation time.
Ultimately, says John, teachers just want to teach.