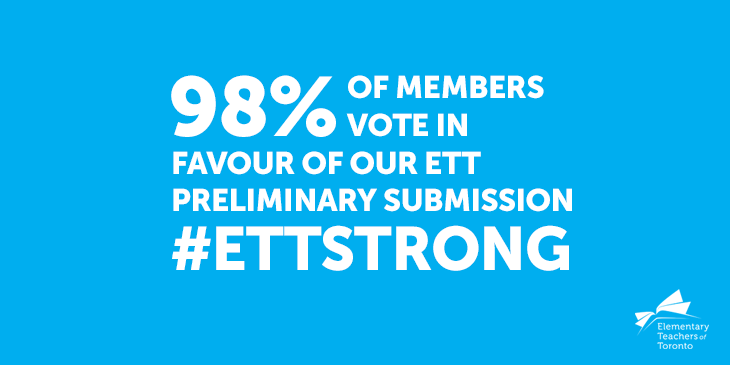 October 24, 2019
ETT Preliminary Submission Vote Result Demonstrates Our Solidarity
ETT members have voted 98% in favour of our Local Preliminary Submission.
The result of this vote, which was conducted in schools on October 22 and 23, 2019, demonstrates members' overwhelming approval of our local demands. This impressive achievement of solidarity and indication of our collective power is critical as we prepare to enter negotiations with the Toronto District School Board (TDSB) to improve members' working conditions and students' learning conditions.
Given this strong result, we will be moving forward with a Local Strike Vote at the same time as our ETFO Central Strike vote on Wednesday, October 30, 2019, from 1:00 to 9:00 p.m., at the Metro Toronto Convention Centre (MTCC).
Please visit our ETFO Central and ETT Local Strike Votes portal for additional information about the votes.