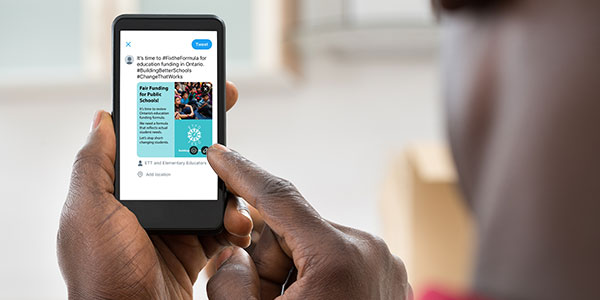 May 31, 2018
ETT Members Take Action in ETFO Virtual Rally to Support Building Better Schools
On Wednesday, May 30, 2018, ETT members from schools across the TDSB took part in ETFO's virtual rally, sending a mass message across social media channels that Building Better Schools is a critical election issue.
Thank you to all of the ETT and ETFO members that participated in the virtual rally. Your creative photos and signs, and heartfelt and insightful messages were inspiring.
We would especially like to thank our Stewards for coordinating and leading the various member meetings and brainstorming sessions at individual schools. It's your hard work that made this rally a success.
Twitter Messages
The following is a small selection of #BuildingBetterSchools tweets from ETT members. Thanks again to everyone that participated!
We are voting for Building Better Schools in this year's provincial election! #buildingbetterschools #NDP pic.twitter.com/ic8EK5ZeCr

— Francesca Piccione (@KekaPiccione) May 30, 2018
Mary Shadd teachers supports ETFO, and the Building Better Schools plan! #BuildingBetterSchools. Let's #ChangefortheBetter! pic.twitter.com/hG57oqYxsI

— S. Johar (@sadhna_johar) May 30, 2018
#buildingbetterschools #changethatworks pic.twitter.com/KsplGS3uIQ

— Sarah (@mercersa) May 30, 2018
This election, every voice/vote counts! #buildingbetterschools #ChangethatWorks @yolanda_bdacy @ElemTeachersTO @ETFOeducators @etfopresident pic.twitter.com/6tsa7gRylU

— Ms Dualeh (@MsDualeh) May 30, 2018
We believe in making our schools the best they can be. #BuildingBetterSchools #changethatworks #pleasevote pic.twitter.com/dbT9rqs2xJ

— Carolyn Ball, Ed.D. (@wheres_carolyn) May 30, 2018
#BuildingBetterSchools #ChangethatWorks
Sunnylea stands together for Fair Funding pic.twitter.com/ENJADYUb1M

— Catherine MacLean (@CatherineMacLe5) May 30, 2018
Make education a priority! #ChangeThatWorks #BuildingBetterSchools pic.twitter.com/ysDQBqFv3q

— Andrew Beeton (@MrBeetonClass) May 30, 2018
As a teacher my knowledge and experience help me identify student's special needs; a frustrating curse when you can identify need but are forced to watch as those needs cannot be met effectively. Vote for #buildingbetterschools #changethatworks #OnElxn #onpoli #OntarioVotes pic.twitter.com/ui6LZZOqMT

— Celia Kearn (@CeliaKearn) May 30, 2018
Participating in today's Virtual Rally because #buildingbetterschools is key! @ETFOeducators pic.twitter.com/ODZeSpJiVr

— Gabi Parada-Morose (@gabimorose) May 30, 2018
Whatever your opinion, make sure it counts. Inform yourself and don't forget to vote on June 7th. The staff are discussing what will help to build better schools. Obviously an issue that is important to all of us! #buildingbetterschools pic.twitter.com/ZFjs7GI5IO

— Shoshanna Jacobs (@MrsJacobs302) May 30, 2018
ETT members at Diefenbaker ES taking part in the #ETFO virtual rally yesterday. Calling for Ontarians to vote for #ChangeThatWorks to support #BuildingBetterSchools. pic.twitter.com/I4J5DthmdW

— ETT (@ElemTeachersTO) May 31, 2018
@ElemTeachersTO members at @BlacksmithTDSB are voting for #changethatworks #BuildingBetterSchools #ondp #onpoli #ONelection2018 @ETFOeducators pic.twitter.com/WBU1xS10hj

— Yolanda B'Dacy (@yolanda_bdacy) May 31, 2018
Participating in today's Virtual Rally #BuildingBetterSchools #ChangeForTheBetter @ElemTeachersTO pic.twitter.com/SR25Sks1yt

— Stephanie (@StEstabar) May 30, 2018
#buildingbetterschools walk in our shoes for a day. We want better for our students pic.twitter.com/BM1S3naV2O

— liz tobias (@tobias_liz) May 30, 2018
#BuildingBetterSchools #ETFO #StrongerTogether pic.twitter.com/NuZhmAsslB

— Renu Mann (@ren_mann) May 30, 2018