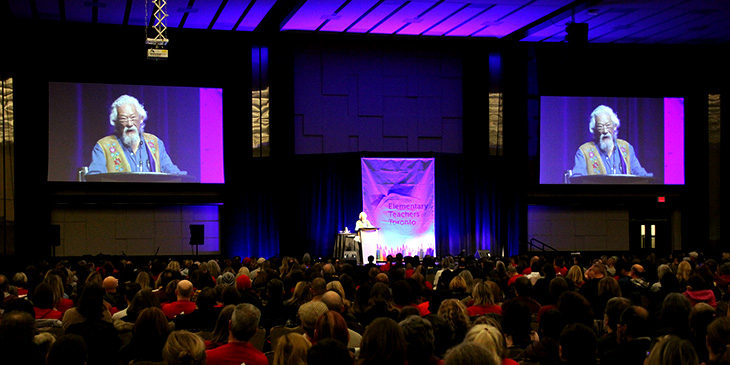 December 10, 2019
ETT Members Show Solidarity and Power at Federation Day 2019
In an inspiring display of collective power and solidarity, thousands of ETT members braved snowy conditions to attend our Federation Day on December 6, 2019 at the Beanfield Centre.
With the provincial government refusing to take bargaining seriously, and members engaged in a work-to-rule campaign to reverse the Ford government's education cuts, it was critical that Federation Day convey our strength as a union.
ETT members did that and more, packing the venue to capacity, demonstrating to the Ford government, the Board, and the media in attendance that we will not back down in our fight to build better schools.
"Not on our watch," said ETT President Joy Lachica at Federation Day."It's our duty to fight. It's our duty to win. ETT members, and our parents and community allies, are energized and mobilized, and we're calling on the Ford government to reverse the cuts and to fund the schools our students deserve."
"Ontario Education Minister Stephen Lecce and the Ford government must stop lying to Ontarians," said ETFO President Sam Hammond.
"I stand with my union," Hammond added. "We have your back. We stand together. We fight together. We will win this, together."
#ETT President @lalalalachica leads #FedDay2019 in chant of #SOLIDARITY. Will not back down in our fight for the schools our students deserve and to #reversethecuts. pic.twitter.com/VZ1ggM4VL0

— Elementary Teachers of Toronto (@ElemTeachersTO) December 6, 2019
Thank You to Everyone That Made #FedDay2019 a Phenomenal Success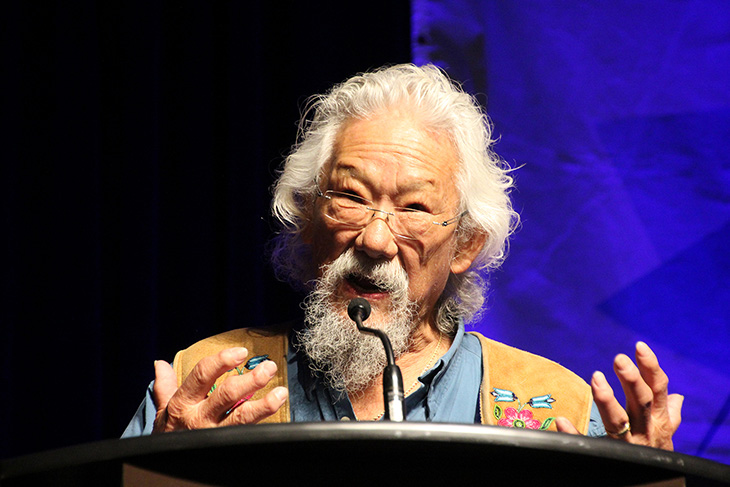 Dr. David Suzuki speaking at Federation Day 2019.
We are tremendously grateful to our amazing speakers, performers, and special guests for making this year's Federation day such a powerful and unifying experience.
Dr. David Suzuki, Canada's environmental champion, delivered a stunning address, challenging us all to rethink our economic drive for endless growth and to rediscover our relationship with the land.
Maggie MacDonnell, winner of the 2017 Global Teacher Prize, brought energy, heart, and truly inspiring stories from her teaching experiences in Nunavik and around the globe.
Jollene Levid, labour organizer extraordinaire, taught us how to win based on her work as the lead organizer during the United Teachers Los Angeles (UTLA) strike.
We would also like to extend our deepest thanks to Indigenous artist and activist Aqua Nibii Waawaaskone for leading our land acknowledgement, the talented ETT musicians that kicked-off our morning, our presenters for facilitating such a variety of inspiring workshops, our fantastic ETT volunteers, the trade show vendors, and all of our other special guests.
Lastly, to our members, as our labour action intensifies in this difficult year, thank you for your continued passion, courage, and solidarity. Federation Day continues to be possible only through your participation and support.
Such gratitude to our #ETT Vice President @yolanda_bdacy for brilliantly coordinating our #FedDay2019! Thank you so much to the Executive, also to the incredible volunteers who made today run so smoothly… To stewards & the throngs of our members engaged today #solidarity #ETFO pic.twitter.com/eYF1iEb5Mr

— Joy Lachica (@lalalalachica) December 6, 2019
Photo Gallery