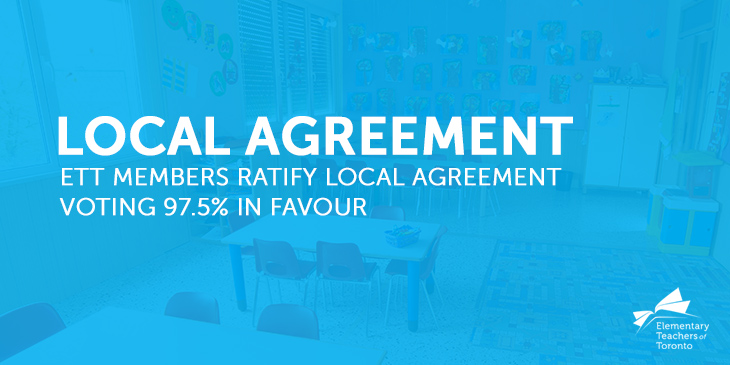 November 3, 2020
ETT Members Ratify Local Collective Agreement Voting 97.5% in Favour
Last night, on Monday, November 2, 2020, ETT Members voted to ratify our Tentative Local Agreement with the TDSB with a vote of 97.5% in favour.
Next Steps
The TDSB has notified us that Trustees will conduct a ratification vote on November 11, 2020. The Central Agreement ensures that salary adjustments of 1% (September 1, 2019) and 1% (September 1, 2020) are paid to members within 30 days of local ratification.
Provided that the Local Agreement is ratified by TDSB, ETT will then be meeting with Board staff to begin the process of blending the Central and Local agreements into one Collective Agreement document that will be made available to the membership.
Our solidarity has been our strength throughout this bargaining process. The ETT Executive is committed to supporting you in building a strong union presence in your school, so, that together, we can continue to achieve agreements that defend our rights and protect our shared public education system.
ETT President
Jennifer Brown
ETT Chief Negotiator
Helen Victoros