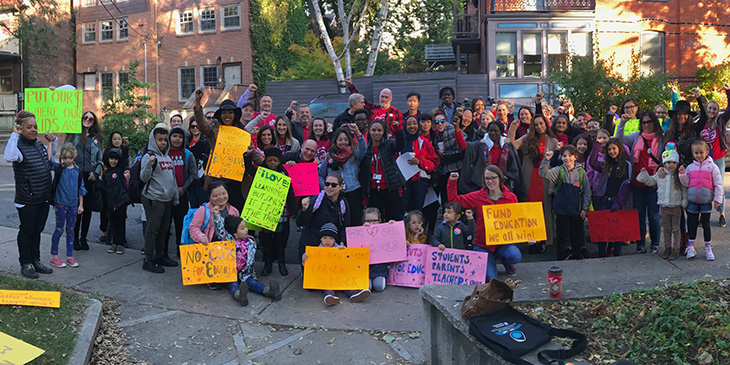 October 10, 2019
ETT Members Join Parents and Students to Take Action in Province-Wide Walk-Ins
On Thursday, October 10, 2019, parents, students, teachers, education workers, and other concerned community allies took part in walk-ins at more than 750 schools province-wide, calling on the Ford government to reverse cuts and properly fund education in Ontario.
Emboldened by CUPE's recent bargaining win, which restored key funding to re-hire education workers in support of students, thousands of Ontarians came together in an amazing show of community strength and solidarity.
In Toronto, thanks to the incredible work of parent organizers, more than 350 TDSB schools staged rallies and marches. ETT members took part, and, in support of parent advocacy, distributed the October edition of our Parent Update, a monthly round-up of critical education news for parents.
"The province-wide 'walk-in' spirit shown by parents, students, and education workers today demonstrates the solidarity and pride in our world class publicly-funded education system," said ETT President Joy Lachica.
Thank you again to all of the communities that came together on October 10. Together, we've shown the Ford government just how powerful and united we are. And we're just getting started.
Photo Gallery
Photos shared by ETT members and parent education advocacy groups.