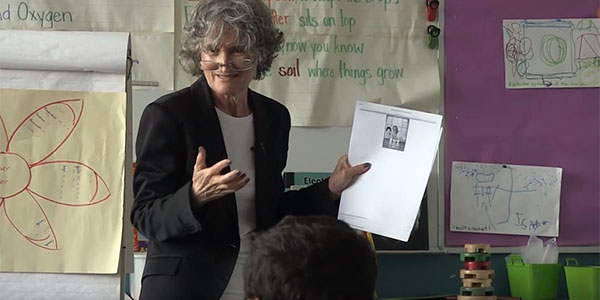 September 27, 2017
ETT Member Helen Wolfe Receives 2017 OTIP Teaching Award in the Elementary Teacher Category
ETT is proud to announce that Helen Wolfe, a former teacher at Nelson Mandela Park Public School, has been awarded the OTIP Teaching Award in the Elementary Teacher Category.
We would also like to take this opportunity to thank Helen, who recently retired in June after 40 years of teaching, for her service and dedication.
From the OTIP Teaching Award website:
Helen Wolfe received the OTIP Teaching Award in the Elementary Category. Helen's teaching was guided by the belief that it is vital to understand students' lives beyond the classroom – that is important to go beyond mere learning to caring for the child's home life. This philosophy was to the benefit of the students at Nelson Mandela Park Public School in Toronto.
Understanding how the issues of poverty and racism can affect learning, Helen made sure that her classroom and teaching reflected the culturally diverse neighbourhood of Regent Park. The classroom walls were covered with materials from her students' countries and speakers and books reflected the cultural and racial diversity of the students. Parents and members of the community were welcomed to visit and share their stories and their talents. She created a unique mentoring and tutoring program with a group of multicultural doctors.
Helen believed that often students are the best teachers and allowed them to drive the curriculum. An example is the Snake Exploratorium. Helen brought in several rubber snakes which generated hundreds of questions about snakes. The result was a classroom snake museum with all areas of the curriculum on display.
Helen kept current on the latest technology to be able to share her knowledge with her students. She worked to ensure that the students have the tools available to move forward in their technological pursuits. Helen expanded school and other community spaces to allow those students who didn't have computers at home to continue their learning.
Helen created a tech group for girls, Girls Crack the Code, which met regularly to 3d print wearables, work on robotics, and learn to code. These girls have been invited to give workshops in Detroit, talk on tech panels, and interviewed on the radio about diversity issues. Girls in this program often were accepted into the elite high school STEM program and top university engineering programs.
Helen's career and life has been dedicated to her students, parents and community. She went above and beyond to ensure that her students found their way to becoming the people they wanted to be and had the foundation for meeting the challenges of the 21st century.
The annual OTIP Teaching Awards, which are sponsored by OTIP (Ontario Teachers Insurance Plan) and OTF (Ontario Teachers' Federation), recognize the outstanding contributions of teachers to their schools and students.
Winning teachers are hosted at a fall awards ceremony in Toronto where they are presented with a personal award of $1,000 and a Certificate of Recognition. Their schools are recognized as well with a $1,000 prize and a Certificate of Recognition. The winning teachers are also featured in a video vignette to be aired on TVO throughout the year.
TVO Video Vignette