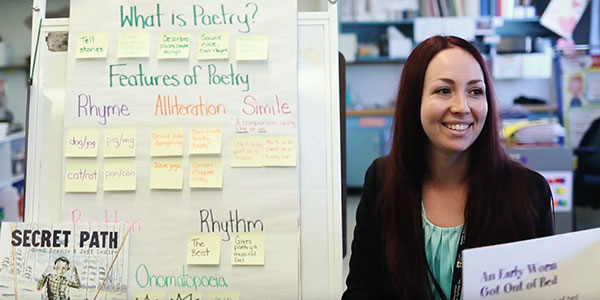 September 27, 2017
ETT Member Colleen Shaw Receives 2017 OTIP Teaching Award in the Beginning Teacher Category
ETT is proud to announce that Colleen Shaw, a member at North Bendale Junior Public School, has been awarded the OTIP Teaching Award in the Beginning Teacher Category.
From the OTIP Teaching Award website:
Colleen Shaw, who taught at North Bendale Junior Public School in Toronto last year, received the OTIP Teaching Award in the Beginning Teacher Category.
Colleen was responsible for a support program for students with behaviour challenges and low cognitive levels. Colleen accepted students as they are and provided them with the tools to achieve success. She created a student-centered classroom in which students learned through personalized instruction that allowed them to make their own choices. The result was that they owned their learning, became more motivated and looked forward to coming to school.
Colleen expanded and enhanced their learning experience with such activities as writing and Skyping with pen pals around the world; using the mind-up curriculum and daily mediation, yoga, breathing techniques for focus and calm; providing leadership opportunities such as organizing/advertising various spirit days; and involving students in community events such as putting together donation bins for students in need.
By creating digital resources, presentations, and projects together with other teachers and students, Colleen made classroom activities resemble the real world. When students were arriving at school hungry, she started a classroom breakfast program. She liaised and formed partnerships with local community schools and businesses to create community experiences such as cooking classes and skating programs.
Colleen facilitated communication with parents/guardians through digital and online means, phone calls, and face-to-face meetings to ensure regular communication was accessible for everyone.
As well, she co-planned professional development for the other special education and junior level teachers. She collaborated with the learning coach to use big ideas from the curriculum to reach all students.
When her nominator for the award asked her why she wished to teach, Colleen replied, "to make a difference in a place where everyone is welcome." And Colleen does make a difference. The students love to come to school and they are treated with dignity, respect and feel valued and cared for.
Colleen Shaw is an excellent example of the new, inspired teachers in Ontario's classrooms.
The annual OTIP Teaching Awards, which are sponsored by OTIP (Ontario Teachers Insurance Plan) and OTF (Ontario Teachers' Federation), recognize the outstanding contributions of teachers to their schools and students.
Winning teachers are hosted at a fall awards ceremony in Toronto where they are presented with a personal award of $1,000 and a Certificate of Recognition. Their schools are recognized as well with a $1,000 prize and a Certificate of Recognition. The winning teachers are also featured in a video vignette to be aired on TVO throughout the year.
TVO Video Vignette