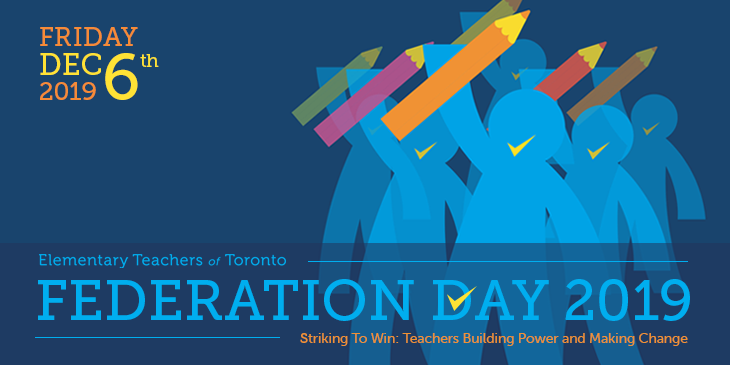 December 5, 2019
ETT Media Release: "Striking to Win," Thousands of Toronto Elementary Teachers to Attend Federation Day
For Immediate Release – December 5, 2019
Toronto, ON – On Friday, December 6, 2019, thousands of elementary teachers will attend the Federation Day of the Elementary Teachers of Toronto (ETT) in a demonstration of solidarity coinciding with the end of the second week of the work-to-rule strike action called by the Elementary Teachers' Federation of Ontario (ETFO).
The theme for Federation Day 2019, Striking to Win: Teachers Building Power and Making Change, is a call to action in the province-wide fight to reverse the Ford government's cuts to Ontario's world-class public education system and to realize the schools our students deserve.
Speakers
Dr. David Suzuki: Broadcaster, environmentalist, scientist, and author
Jollene Levid: Lead Organizer during the United Teachers Los Angeles (UTLA) strike
Maggie MacDonnell: Educator and Global Teacher Prize recipient
Joy Lachica: ETT President
Sam Hammond: ETFO President
What: Federation Day 2019
Where: Beanfield Centre, 105 Princes' Boulevard, Toronto, Ontario
When: Friday, December 6, 2019, starting at 9:00 a.m.
Website: https://ett.ca/fedday2019 Official Hashtag: #FedDay2019
About Federation Day
Federation Day is a negotiated day between ETT and the Toronto District School Board (TDSB) to promote professional growth and union solidarity.
About the Elementary Teachers of Toronto
ETT is the Toronto local of ETFO. The local—the largest in Canada—acts as the representative body for more than 11,000 elementary teachers (K-8) employed by the TDSB.