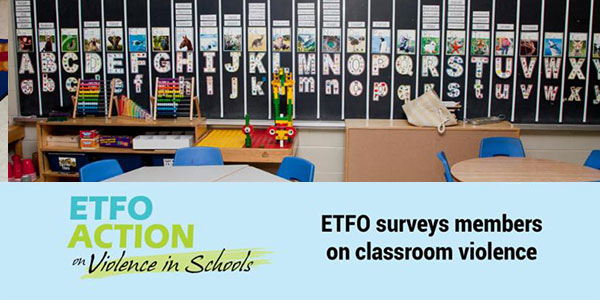 October 23, 2017
ETFO Workplace Violence Survey
On October 20, 2017, ETFO members were sent an email from Stratcom with an invitation to participate in the ETFO All-Member Workplace Violence Survey.
In keeping with ETT and ETFO's ongoing campaign to address violence in schools, all members are asked to provide input through the survey on this important issue.
The survey results will help us better understand the significance of workplace violence, personal experiences with workplace violence, awareness and usage of procedures to deal with workplace violence, and the efficacy of these procedures.
Please check your inbox and spam/junk filters for this important email.
The survey will be open until mid-November to ensure all invited members have a chance to participate. The survey should take up to 20 minutes to complete.
If you have not received your survey or have any questions please direct them to: surveys@stratcom.ca.