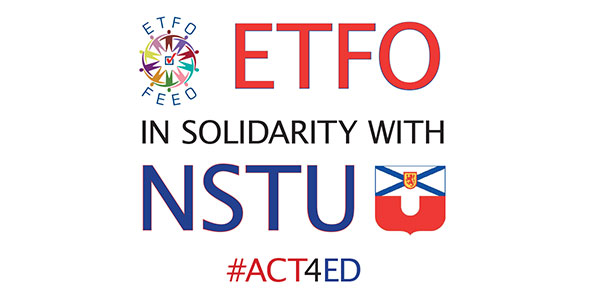 December 6, 2016
ETFO Supports Nova Scotia Teachers
The following message is from the ETFO eNewsletter Vol. 11 No. 7, sent to ETFO members on December 6, 2016.

On Monday, December 5, members of the Nova Scotia Teachers' Union were to begin legal work-to-rule strike action–except the government and school boards closed schools for the day, essentially locking out students while teachers were at school ready to teach.
In a move similar to the unconstitutional Bill 115 in Ontario, the Liberal government in Nova Scotia sought to recall the legislature to impose a contract and end any strike action. Following widespread outrage, the government has not introduced legislation and instead decided to reopen schools to students as of Tuesday, December 6.
Colleagues in Nova Scotia will continue to take strike action to defend the profession and public education. Show your support with these social media images: Twitter | Facebook, and visit www.ActForEducation.ca.