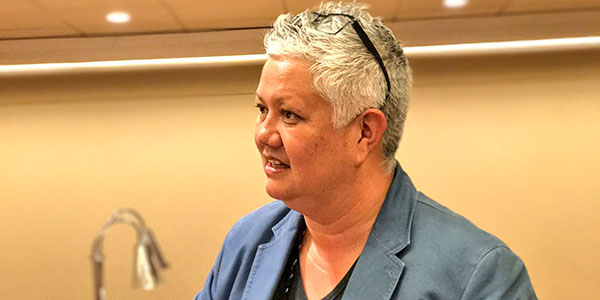 August 16, 2017
ETFO Media Release: Toronto Teacher Joy Lachica Elected to Executive of Elementary Teachers' Federation of Ontario
The following ETFO Media Release was issued on August 16, 2017.
Joy Lachica, a Toronto teacher and executive officer of the Elementary Teachers of Toronto Local, was elected to the Executive of the Elementary Teachers' Federation of Ontario (ETFO) today.
Speaking to more than 800 ETFO members at the Federation's Annual Meeting, Lachica said, "Having a background in special education has made me certain that staffing and environment are essential to student success and the health and safety of members. Solutions are needed for the rise of violent incidents in schools."
"As a union, we can address governance that has cut the heart out of funding needed so desperately to keep school buildings standing and students thriving. As a racialized woman and member of the lesbian, gay, bisexual, trans, queer and questioning (LGBTQ) community, I believe it is also important that we work to validate those who face oppression in an increasingly challenged system," said Lachica.
Joy began her teaching career in 1990 in Toronto. She taught in Vancouver and served as regional director of the Huntington Learning Centre in New York City from 1999-2002 before resuming teaching positions with the Toronto District School Board in grades 7-8 and special education. In 2015, Joy was elected as a released officer with the Elementary Teachers of Toronto (ETT). She has served as executive liaison to the LGBTQI and Environment committees and as a member of the ETT Negotiations Committee.
At the provincial level, Joy has been a member of the LGBTQ Standing Committee. She is also co-chair of the Toronto and York Region District Labour Council's Environmental Committee.