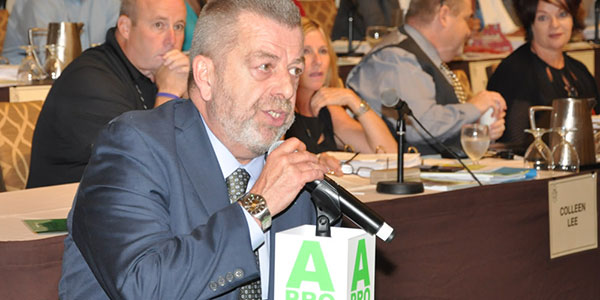 August 16, 2017
ETFO Media Release: Sam Hammond re-elected President of Elementary Teachers' Federation of Ontario
The following ETFO Media Release was issued on August 16, 2017.
Sam Hammond was re-elected president of the Elementary Teachers' Federation of Ontario (ETFO) at its Annual Meeting today for a fifth term. He has served as ETFO president since 2009.
"ETFO is a strong and dynamic union that is an ever-vigilant agent of change in society working for equity, social justice and a better public education system," Hammond told 800 delegates at the meeting. "Through two premiers and five ministers of education, I have been proud to lead our members as we successfully met challenging rounds of central negotiations and unprecedented attacks on our union, our profession and our Charter rights."
"As president, I have worked passionately to build an inclusive, transparent and collaborative culture within ETFO. We remain strong and united in our resolve."
"With our Building Better Schools education agenda, ETFO has reached out to parents, families and education stakeholders to advocate for changes that will make our public elementary schools better. That includes more support for students with special needs, mental health supports for students, measures to ensure safe and healthier schools and issues like smaller class sizes that better enable our members to meet the needs and aspirations of all students."
"The overriding obstacle to ensure optimal teaching conditions and student learning conditions is the government's flawed funding formula for public education. The formula was a flawed creation when it was introduced in 1997 by the Progressive Conservatives and subsequent Liberal governments have failed to adjust funding to meet the actual needs of students, educators, front line support workers and curriculum areas beyond literacy and numeracy. ETFO will continue to advocate for the government to make significant changes to make the funding formula work for students," added Hammond.
Hammond, who served as an ETFO vice-president from 2004-2007 and as first vice-president from 2007 -2009, was first elected to the provincial Executive in 2003. Prior to being elected, he taught physical education and health from Junior Kindergarten through grade 8 in Hamilton-Wentworth for well over a decade. He served the Hamilton-Wentworth Teacher Local as chief negotiator and grievance officer for five years.