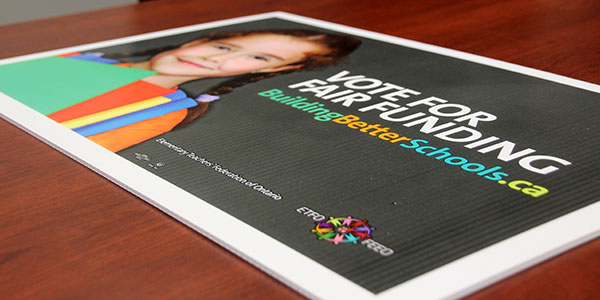 ETFO Building Better Schools Signs
In anticipation of the Provincial Election, ETFO has produced lawn and window signs as part of its Building Better Schools campaign to encourage voting for fair funding.
The ETT Office has a limited number of signs available. Members interested in picking up a sign are asked to complete the following order form.
Please be advised that signs will be distributed on a first come, first served basis, with priority given to members able to pick up their sign at the ETT Office (Monday to Friday, 9:00 a.m. to 5:00 p.m.).
Other delivery methods are currently being considered. Please specify if you are unable to pick up your sign at the ETT Office and we will attempt to arrange an alternate pick-up.
One sign per member.
Sign Types
There are two sign types available:
Lawn Sign (24″ x 18″, includes metal H frame)
Window Sign (11″ 17″)
ETFO Building Better Schools Sign Order Form