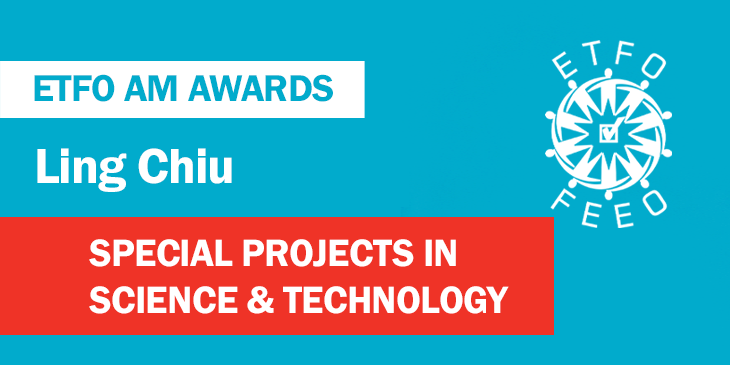 August 14, 2019
ETFO Annual Meeting 2019: Toronto Teacher Ling Chiu Receives ETFO Award for Special Projects in Science and Technology
The following media release was posted on the ETFO website on August 13, 2019.
The Elementary Teachers' Federation of Ontario (ETFO) has given its 2019 Award for Women Who Develop Special Projects in Science and Technology to Toronto teacher Ling Chiu. The award is an incentive for ETFO women members to produce innovative educational materials related to science and technology.
A teacher at Lucy McCormick Public School, Ling developed "Let's Go Ride a Roller Coaster", a virtual reality project that creates greater accessibility for students in special education. Ling recognized that virtual reality allows students who have severe physical and cognitive challenges to experience and explore the world in a way that is not easy or possible for them to do otherwise. For students attending more traditional school settings, other areas of the curriculum including history and geography can be easily integrated into the program. Ling developed the program over three years with the support of the Tetra Society of North America, which builds innovative solutions for people with physical disabilities to overcome barriers.
Along with virtual reality equipment including a movement simulation platform that can accommodate a wheelchair, students are able to take a virtual roller coaster ride, paddle a kayak, ride a bike, row a boat or get on a skateboard. The student learning is tied to the Toronto District School Board's Alternative Curriculum guide. Use of the virtual reality project has shown increases in desire to participate and maintain engagement in activities among students. In 2018, Ling's project was shortlisted for the Virtual Reality/Augmented Reality Award at the Reimagine Education Conference & Awards in San Francisco.
"Ling's perseverance in developing this project is admirable not just for the technology involved but for making the world a much more accessible experience for students in Special Education," said ETFO President Sam Hammond. "Ling has taken the principle of inclusion to a whole new level for her students."