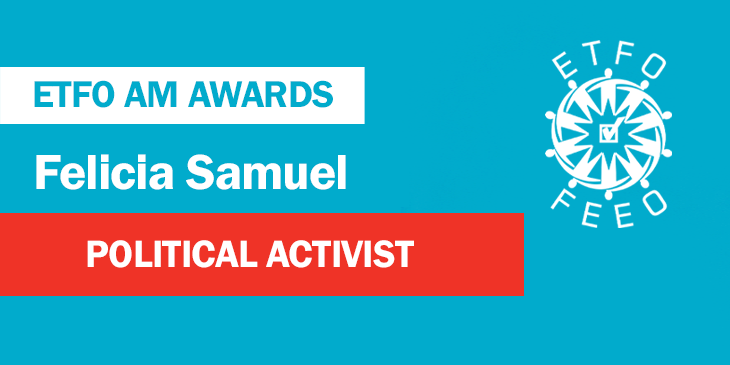 August 14, 2019
ETFO Annual Meeting 2019: Toronto Teacher Felicia Samuel Wins ETFO Political Activist Award
The following media release was posted on the ETFO website on August 13, 2019.
The Elementary Teachers' Federation of Ontario (ETFO) has presented Toronto teacher Felicia Samuel with its 2019 Political Activist Award for her union activism and public mobilization on education and other issues.
The award is presented to a ETFO member to recognize outstanding commitment to and involvement in union activism, active contribution to the broader labour movement and political activism that has positively impacts local and provincial members.
An Executive officer with the Elementary Teachers of Toronto (ETT) since 2011, Felicia's political activism began in 2014 when she became staff liaison to the local's Political Action Committee. For the municipal and trustee elections that year, Felicia organized education canvases and meet and greet opportunities with endorsed trustee candidates. For the 2018 provincial election, she created a lobby day workshop for ETT members to visit their MPPs to outline issues in ETFO's Building Better Schools education agenda. She also helped create promotional materials for the Campaign for Public Education/Fix Our Schools that brought media attention to the issue of crumbling schools along with a pledge card signed by 58 MPPs.
In 2018, Felicia ran as the Ontario NDP candidate for Scarborough Rouge Park. After coming a close second, she ran later that year as the municipal candidate in Scarborough North. Though she did not win, Felicia's vocal support for quality public services, improved transit in Scarborough and quality, affordable housing won her endorsements from the Toronto Star, Now Magazine and others. In 2016, Felicia won the Coalition of Black Trade Unionists' June Veecock Leadership Award and she has served as a trustee of that organization since 2018.
"Felicia has not only made a positive impact through her work with the Toronto and York Region District Labour Council, Ontario Federation of Labour, ETT and ETFO," said ETFO President Sam Hammond. "She is a tremendous organizer for public action on political and social justice issues affecting families in the province."