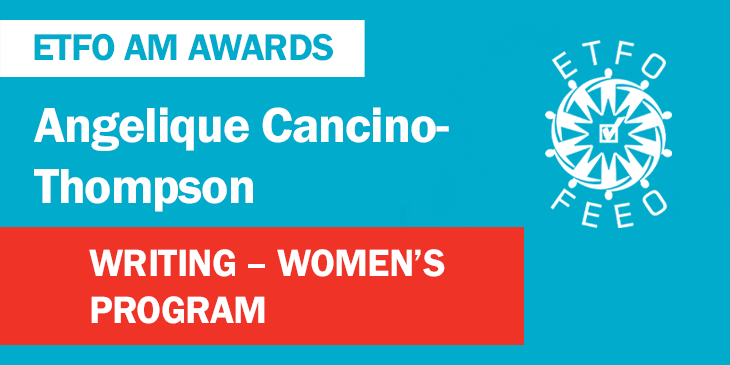 August 14, 2019
ETFO Annual Meeting 2019: Toronto Teacher Angelique Cancino-Thompson Wins ETFO Writer's Award-Women's Program
The following media release was posted on the ETFO website on August 13, 2019.
The Elementary Teachers' Federation of Ontario (ETFO) has presented Toronto teacher Angelique Cancino-Thompson with its 2019 Writer's Award- Women's Program for her in-depth look at microagressions and their impact on racialized women.
The award is presented to an active ETFO member or a group of members to recognize published or unpublished works.
While discrimination and harassment against women and racialized people can take many forms, Angelique has examined microagressions, which are slights, snubs or insults directed to people and based solely on their membership in a marginalized group. She explains their effect and what we can do about them in a 2018 article written for ETFO's Voice magazine called "Sisters in the Struggle- Racialized Women and Microaggressions in the Workplace". As Angela notes, microagressions may be intentional or not but they send a hostile, derogatory or negative message. They are deeply rooted in societal practices and reflect assumptions and biases that many people hold.
Whether it's being constantly interrupted, ignored by colleagues or a simple question like "where did you come from?", Angelique deconstructs the meaning behind microaggressions and their impact on women, and addresses the ambiguity that makes it difficult to recognize them. She suggests how to address microagressions, particularly when it means raising issues with people in a position of influence. Angelique said she struggled to explain the issue in a meaningful way and was fearful about how it might be received by colleagues. A grade 1/2 teacher at Firgrove Public School, she has helped edit ETFO's Culturally Relevant and Responsive Pedagogy document and was a curriculum writer for the ETFO Women's Equality Project in 2015.
"Angelique has bravely brought to light a form of discrimination that all of us need to check and be aware of. As she indicates, no one should have to go to work and feel threatened," said ETFO President Sam Hammond.