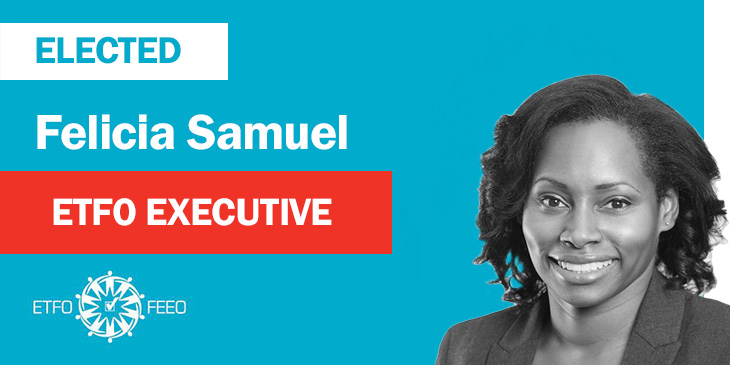 August 15, 2019
ETFO Annual Meeting 2019: ETT Executive Felicia Samuel Elected as ETFO Executive Member
Felicia Samuel, ETT Executive, has been elected as an ETFO Executive Member, Designated Group (Female).
Media Release: Toronto teacher Felicia Samuel elected to provincial Executive of Elementary Teachers' Federation of Ontario
The following media release was posted on the ETFO website on August 15, 2019.
Toronto teacher Felicia Samuel has been elected to the provincial Executive of the Elementary Teachers' Federation of Ontario (ETFO).
Addressing 800 Annual Meeting delegates, Samuel said, "Unions like ETFO must truly defend publicly-funded public education by building on our collective power and working with parents, community members and other allies."
"We will not accept the Ford Conservative government's larger class sizes, escalating violent incidents in classrooms due to decreasing front-line supports and job losses when we know that there is a need for talented and knowledgeable educators. Balancing the government's books must not happen on the backs of students, families and educators," added Samuel.
Felicia began her teaching career in 2004 after graduating with a Bachelor of Education from the University of Ottawa. She taught Grade 6 French Immersion and other subjects in Peel before moving to the Toronto District School Board in 2006.
In 2011, Felicia was elected as an Executive officer of the Elementary Teachers of Toronto. Since then, she has acted as committee liaison to the Elections, Political Action, Community Outreach and French as a Second Language Committees. Felicia has also been a member of the local Negotiations and Strike Teams. At the provincial level, she has been a mentor/coach and trainer in ETFO women's leadership programs.
At the provincial level, Felicia was elected as the Ontario Federation of Labour's Worker of Colour VP alternate for 2015-2017 and continues to be a member of the committee. She has been a delegate to the Toronto and York Region District Labour Council since 2008, serving as an Equity Committee member in 2014-2016. Felicia was an Ontario NDP provincial candidate for Scarborough Rouge Park in the 2018 election and a City of Toronto municipal candidate for Scarborough North in fall of 2018. She won ETFO's Political Activist Award for 2019.