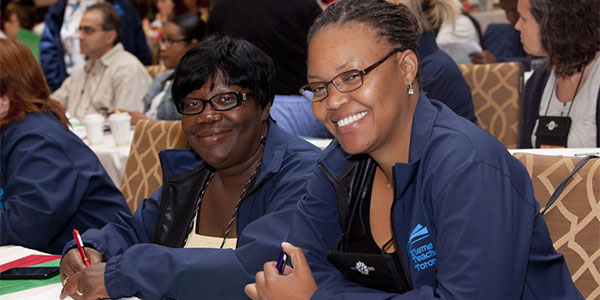 August 18, 2017
ETFO Annual Meeting 2017 Summary
On August 14-17, 2017, more than 600 ETFO members from across the province took part in the ETFO Annual Meeting 2017 in Toronto, including more than 100 Delegates and Alternates from ETT.
The Annual Meeting is a grass-roots democratic process through which the priorities are set for our provincial union; financial statements, reports from officers, and committees are received; motions are debated and voted on; and the ETFO Awards are presented.
Additionally, as this was an election year, attendees also chose a new Provincial Executive for 2017-2019.
The ETFO Annual Meeting is key to maintaining and building a vibrant, democratic, and organized union. Thank you to all of the ETT and ETFO Delegates and Alternates for your enthusiasm and dedication, and for helping to support the development and growth of our union.
Watch ETFO President Sam Hammond's Opening Address
On Monday, August 14, 2017, ETFO President Sam Hammond delivered an opening address to Annual Meeting Delegates highlighting ETFO's work over the past two years, including the 2017-2019 Extension Agreements, ETFO's call to action to address violent incidents, and the union's challenge to the province's outdated funding formula.
A text summary of the address can be found on the ETFO Annual Meeting 2017 website.
ETFO Recommendations to Fix Provincial Funding Formula
In advance of the Annual Meeting, ETFO released a report with seven recommendations to fix the education funding formula that has been shortchanging Ontario's students for 20 years.
Along with increasing special education funding in 2017-2018, ETFO is calling for: an independent, external review of the government's statistical model used for funding special education; and amendments to the funding formula to provide more front-line children's services and ensure average class size in grades 4 to 8 does not exceed 22 students, the current average class size for secondary students.
ETFO is also recommending that the government address the $612 per pupil differential in funding for elementary and secondary students and establish, through legislation, a review of the education funding formula every five years.
Download Shortchanging Ontario's Students: An Overview and Assessment of Education Funding in Ontario [PDF]
2017-2019 Provincial Executive
As per ETFO's constitution, every two years Delegates to the ETFO Annual Meeting elect a Provincial Executive for a two-year term.
ETT would like to extend special congratulations to former ETT Vice President and Executive Karen Campbell, elected First Vice President, and to ETT Executive Joy Lachica, elected ETFO Executive. Both have shown tremendous dedication and leadership in their work on behalf of ETT and ETFO members, and will no doubt continue that work at ETFO in their new positions.
We would also like to congratulate Sam Hammond on his re-election as ETFO President, and the other elected members of the 2017-2019 ETFO Executive, as well as thank all of the candidates that put themselves forward.
See the 2017-2019 Provincial Executive
Award Winners
ETT is proud to announce that two of our members received ETFO 2016-2017 Awards.
Patricia Heath, a teacher at Highfield Junior School, was presented with the 2017 Arts and Culture Award for her leadership in school music and community choir concerts, and Martha Davis, a teacher at Pauline Public School, was presented with the 2017 Writer's Award – Women's Program for her book Troll with a Goal.
See the full list of ETFO 2016-2017 Award Winners
Motions and Reports
Delegates also debated and voted on a series of important motions, including the union's priorities for 2017-2018, and received reports from the various ETFO Standing Committees.
See the motions passed at the Annual Meeting and the Standing Committee reports.