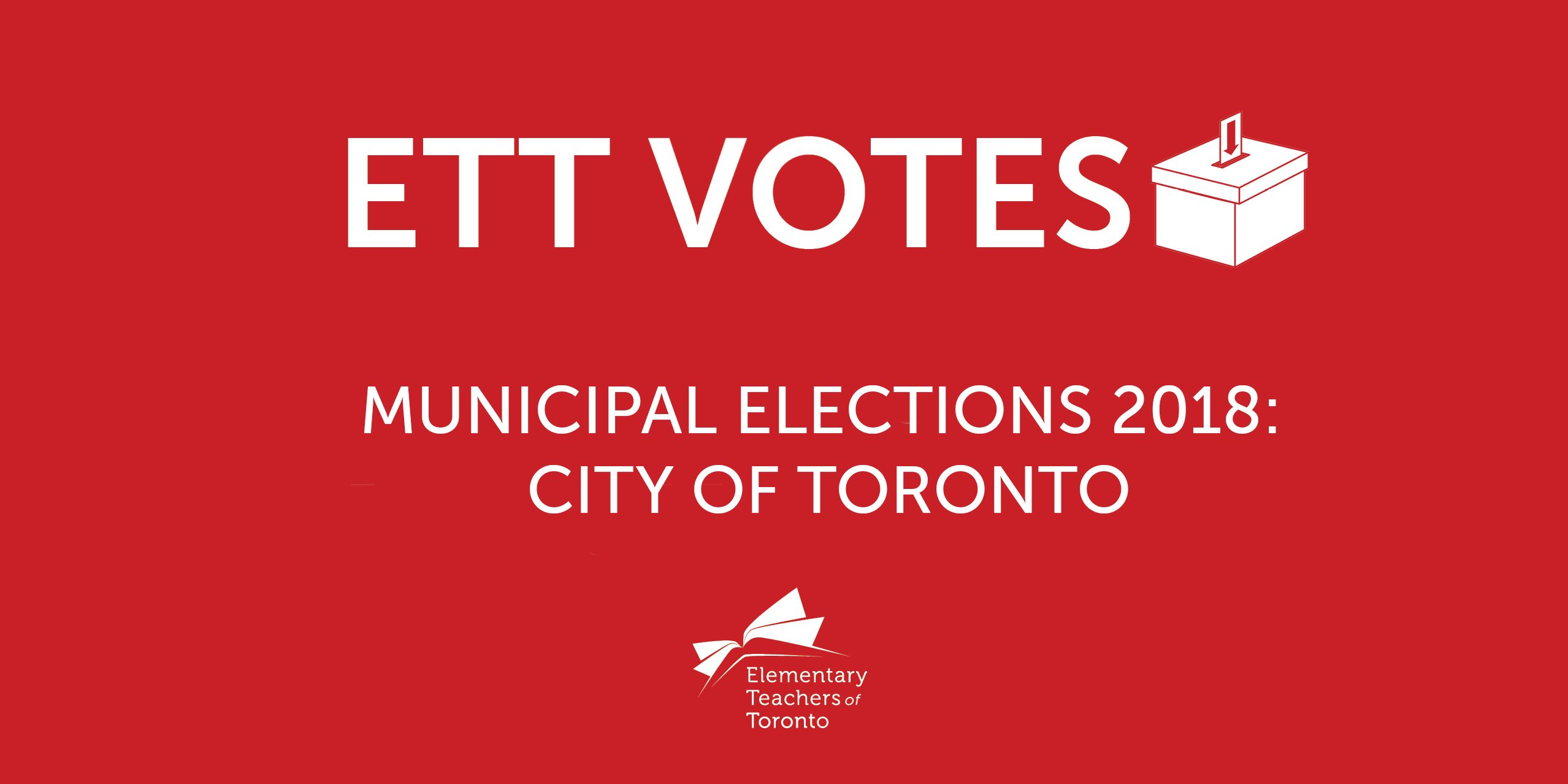 October 10, 2018
City of Toronto Municipal Election: October 22, 2018
Voting is a vital civic duty.
This is especially true during municipal elections, which differ from provincial or national elections in that people have a localized voice, and vote directly to elect individuals who become city councillors. Your city councillor is your direct channel to the local government, who then advocates and fights for the concerns and needs of your community.
Vote if you care about the quality and future of local schools, the education our children receive; if you care about fair labour, efficient urban transit, fair taxation, facilities, or efficient services — you have a reason to cast a ballot this election.
For the City of Toronto, advance polls start on October 10 from 10 am to 7 pm each day and ends on October 14. You can find the advance voting locations in your ward on your voting card or the MyVote site – or you can cast a ballot at City Hall.
We encourage members to participate in advance polls to amplify the impact of your vote.
ADVANCE POLLS COUNTDOWN
[wpc_countdown theme="flat-colors" now="1539184826236″ end="94″ bg="#ffff" padding="5″]


The most critical component of casting a ballot is making an informed decision. Visit the links or download the files below to learn about candidates supported by ETT and endorsed by the Toronto York Region Labour Council. Election day is on October 22.
---
Quick Links
CPE and TYR Labour Council Endorsees:
City of Toronto Mayor —
Jennifer Keesmaat – watch Jennifer Keesmaat's message for ETT. 
City of Toronto Councillors —
Ward 2 – Amber Morley
Ward 4 – Gord Perks
Ward 5 – Lekan Olawoye
Ward 6 — Maria Augimeri
Ward 7 – Anthony Perruzza
Ward 9 – Ana Bailao
Ward 10 – Joe Cressy
Ward 11 – Michael Layton
Ward 12 — Joe Mihevc
Ward 13 – Kristyn Wong-Tam
Ward 14 – Paula Fletcher
Ward 17 – Shelley Carroll
Ward 18 – Saman Tabasinejad
Ward 19 – Matthew Kellway
Ward 23 — Felicia Samuel
Ward 25 – Neethan Shan
Toronto Public School Board Trustees —
Ward 1 – Ali Mohamed-Ali
Ward 2 – Shawn Rizvi
Ward 4 – Matias de Dovitiis
Ward 7 – Robin Pilkey
Ward 9 – Stephanie Donaldson
Ward 10 – Chris Moise
Ward 11 – Amara Possian
Ward 13 – Siham Rayale
Ward 15 – Jennifer Story
Ward 16 – Phil Pothen
Ward 17 – David Smith
Ward 18 – Parthi Kandeval
Ward 19 – Samiya Abdi
Ward 20 – Manna Wong
Ward 21 – Yalini Rajakulasingam
TYR LC Endorsed Candidates List
TYR LC Endorsed Candidates Tabloid PDF
TYR LC City Council Report Card
WARD 23 Felicia Samuel Campaign & TYR Endorsees Spotlight
WARD 20 Manna Wong Campaign Spotlight
WARD 1 Ali Mohamed-Ali Campaign Spotlight
The Councillor Candidate Spotlight Series will add new updates from now until election day.