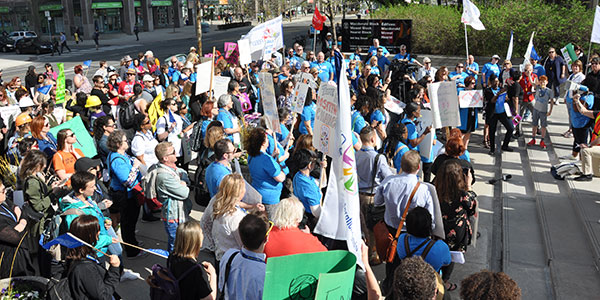 May 10, 2018
Educators, Parents, and Students Rally in Support of Building Better Schools
On Wednesday, May 9, 2018, hundreds of teachers, education workers, parents, and students from across Toronto, and other parts of the province, brought their concerns about the province's broken education funding formula to the steps of the Ontario Ministry of Education in Toronto.
"Our rally last night demonstrated that ETT and ETFO members are ready to use the upcoming provincial election to champion building better schools," said ETT President Andy Lomnicki.
"The current education funding formula is shortchanging our students. Large class sizes, insufficient supports for students with special needs, aging buildings and classrooms that are failing into disrepair—it's all related to an inequitable and broken funding system. Teachers are prepared to get involved in this election campaign, to make this an election issue."
As part of our campaign to fix the education funding formula, ETT members were at the rally proudly displaying our banner of more than 7,000 teacher signatures demanding that the education funding be made a priority.
With the Ontario Election now officially called, members are encouraged to pledge to vote to support Building Better Schools, and to share the pledge with their colleagues, friends, and neighbors.
Pledge to Vote to Build Better Schools
ETT members can also visit ETT and ETFO websites for election information and materials.
ETT Provincial Election Portal
ETFO Provincial Election Issues webpage
Together, let's use the opportunity provided by this election to realize the schools our students deserve.
Photos
See photos from the rally on Facebook or Flickr.
Video
ETFO President Sam Hammond speaking at the rally.
Photos courtesy of ETFO.