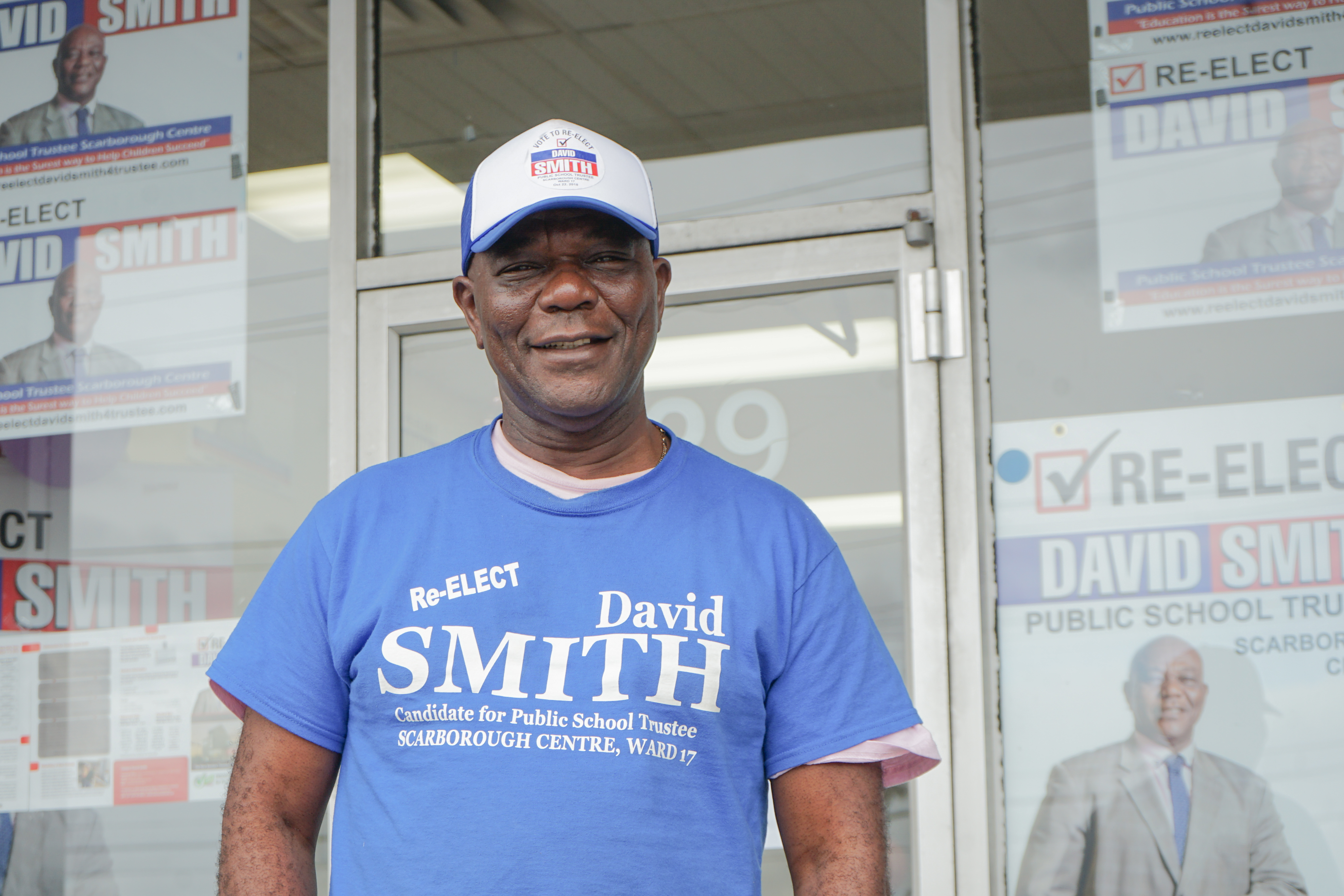 Candidate Spotlight: David Smith, Ward 17
David Smith's campaign office sits in a 1960's-vintage strip mall near Lawrence and Midland Avenues. It's a couple of doors down from Shirin Mahal Bakery and right next to Popeye's Louisiana Chicken. The huge Abu Bakr Mosque is a little further along. A group of young Sikh men walks by. A few blocks west on Lawrence, a United Church may be a relic of a different time- but, looks well-used. Ward 17 – Scarborough Centre, where Smith is the incumbent in the TDSB trustee race, is a mix of people and cultures.
Smith was first elected trustee in 2010 and talks about what has kept him busy over the past eight years: anti-bullying and working with community groups to provide nutrition programs for schools that don't meet the income cut-off for extra funds through the Learning Opportunity Index. He says he pushed to have solar panels put on 22 schools. There's a new secondary school under construction nearby. Smith likes infrastructure.
He believes that many in his community are caught between their homeland and their lives in Toronto and look at schools as places to recapture some of what they've left behind. Schools might become churches, cricket fields, senior centres and so on. But permits to public buildings cost money, and though he says he works to get fees reduced, they aren't available to everyone.
Principals, Smith says, need to be more vigilant and understanding of the communities in which they work, adding that trustees need more leeway to help them do that. He's frustrated that trustees aren't in the loop when parents start to raise concerns about their schools. They could do much more to alleviate problems if they're part of the discussion early-on.
With a background steeped in organizing, fundraising and financial oversight in all three major parties – PC, NDP and Liberal – David Smith argues that proper management can overcome a host of problems in the TDSB.
Dudley Paul